Press Release
Source: J. and R. Farina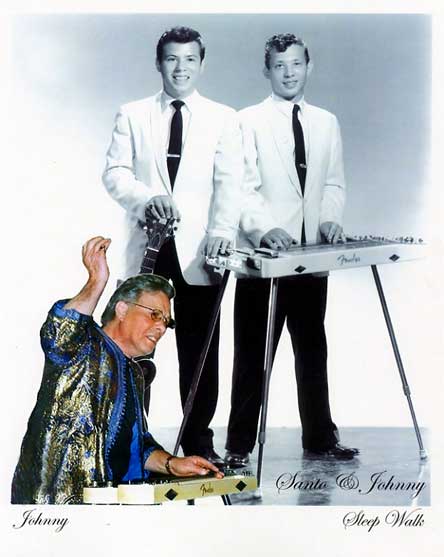 Johnny Farina of the legendary brother team, Santo and Johnny, is still going strong gifting the world with performances of not only the brothers' 1959 number one hit "Sleep Walk", but with scores of other superb songs that include: "And I Love Her", "The Godfather" theme , "Tear Drops", "Caravan" and many, many more.
During the course of their career together, Santo and Johnny released 40 albums! 
"Sleep Walk" hit the airwaves in 1959, and added a new sound to Rock "n" Roll, a steel guitar as the lead instrument, unheard of at that time, an instrument associated with country and hawaiian music used in the background.
"Sleep Walk" reached #1 on the charts and earned them a Gold Record. They did the Alan Freed shows in Brooklyn, and appeared on his TV show several times, along with Dick Clark's American Bandstand, and The Perry Como Show.  
On Saturday, April 20, 2019, Johnny Farina will knock you out with a series of dreamy hits at The Cutting Room (Tele: 212-691-1900) in New York City (44 E. 32nd Street NY, NY 10016). Doors open at 6:00 p.m. and Johnny will hit the stage at 7:00 p.m.
"Sleep Walk" brought Santo and Johnny to Europe. They had their own TV show in Italy, covered all the James Bond movie music, were awarded a Gold Record for The Godfather Theme, and inducted into the Hall of Fame in Italy. "Sleep Walk" has been in over 28 movies, including La Bamba, the story of the legendary Ritchie Valens (1941 – 1959) rise to fame and "the day the music died".
During 2019, " Sleep Walk" celebrates it's "60th Anniversary" and is stronger than ever, with it's latest use being in the trailer of the movie, The Intruder, that features Dennis Quaid.  
Johnny continues to perform all over the world.
"Sleep Walk" was recorded by over 100 Artists.  Some are:
Brian Setzer                                   Al Caiola     
Jeff Beck                                        Diana Ross & the Supremes
Joe Satriani                                   Al Kooper
Chet Atkins                                   Deftones
Les Paul                                         James Burton
Eric Clapton                                  Modest Mouse
Larry Carlton                                The Lettermen
Danny Gatton                               Renee Olstead
The Ventures                                Carlos Santana
Some artists inspired by "Sleep Walk":
John Lennon was inspired by "Sleep Walk" to write "Free As a Bird".
Pete Green from Fleetwood Mac was inspired by "Sleep Walk" to write "Albatross".  

Sleep Walk Artist and Steel Hall of Famer Johnny Farina at The Cutting Room New York City April 20, 2019! (Videos)
Source: Guitar International Magazine