By: William Clark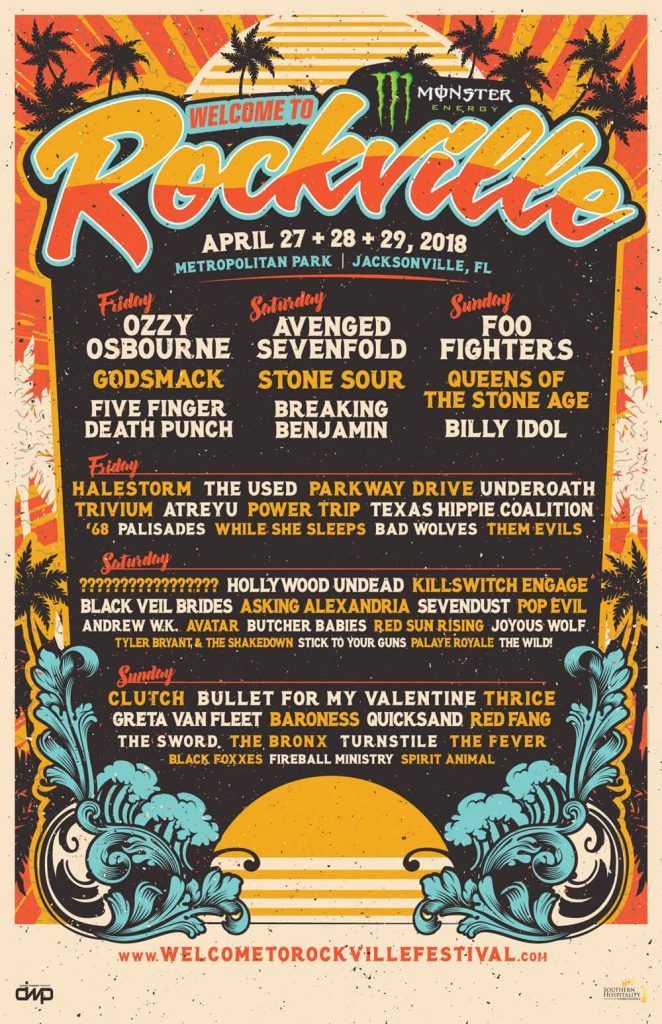 Rock fans looking to take a trip out to the Sunshine State would be pressed to find a more fitting experience than the 8th Annual Monster Energy Welcome To Rockville festival. This year's three day outdoor music event, set for April 27-29, 2018, is well primed with a lineup of monolithic metal proportions, featuring scheduled performances from such respected axe slingers as Zakk Wylde, Steve Stevens, Synster Gates, Zacky Vengeance, Dave Grohl and Michael Paget.
Each year since its formation in 2010, Welcome To Rockville has developed a strong reputation for uniting Floridian metalheads with massive lineups at the Metropolitan Park in Jacksonville. 2018 proves to be no exception by bringing together acts like alt rock heavyweights Queens of the Stone Age and Clutch with rising talent in bands such as Greta Van Fleet, Them Evils and Spirit Animal.
While the weekend is sure to be jam packed with high voltage rock and roll, Welcome To Rockville 2018 holds that much more relevance for dedicated rock fans as it will also serve as one of the stops for heavy metal icon Ozzy Osbourne on his 'No More Tears 2′ tour, which is set to stand as the Prince of Darkness' final major trek.
"I've been extremely blessed to have had two successful music careers," Osbourne says.  "I'm looking at this final tour as being a huge celebration for my fans and anyone who has enjoyed my music over the past five decades."
Day One (April 27) revolves around performances from Ozzy Osbourne, Godsmack, Five Finger Death Punch, Halestorm, The Used, Parkway Drive, Underoath, Trivium, Atreyu, Power Trip, Texas Hippie Coalition, '68, Palisades, While She Sleeps, Bad Wolves and Them Evils.
Day Two (April 28) features appearances from Avenged Sevenfold, Stone Sour, Breaking Benjamin, ??? (to be announced), Hollywood Undead, Killswitch Engage, Black Veil Brides, Asking Alexandria, Sevendust, Pop Evil, Andrew W.K., Avatar, Butcher Babies, Red Sun Rising, Joyous Wolf, Tyler Bryant & The Shakedown, Stick To Your Guns, Palaye Royale and The Wild.
Day Three (April 29) caps the event off with sets by Foo Fighters, Queens of the Stone Age, Billy Idol, Clutch, Bullet For My Valentine, Thrice, Greta Van Fleet, Baroness, Quicksand, Red Fang, The Sword, The Bronx, Turnstile, The Fever, Black Foxxes, Fireball Ministry and Spirit Animal.
Tickets for the 2018 Monster Energy Welcome To Rockville festival are available now at the official event website. (https://welcometorockvillefestival.com/)
About William Clark: William Clark is the Editor-In-Chief of Music Enthusiast Magazine and a Staff contributor to Guitar International magazine.

Ozzy Osbourne, Billy Idol, Avenged Sevenfold Headed to Jacksonville's Welcome To Rockville
Source: Guitar International Magazine