By: Robert Cavuoto
The "Bitch Is Back" – Lita Ford the original Queen of Metal is back and working hard to make up for lost time after living on a deserted island for 15 years.
Yes, you read that correct, Lita and her now ex-husband with their two sons lived on a secluded island for 15 years with almost no connection to civilization!
Since reigniting her career and taking back her metal throne, Lita has released two studio albums; Wicked Wonderland in 2009 and Living Like a Runaway in 2012, then released her live CD, "The Bitch is Back…Live".
And she's been touring relentlessly to promote her new music and hang out with her loyal fans.
She's also been hard at work writing a new book, a story that fills us in on her '70s band, The Runaways, her marriage, living like a captive, planning her escape from an island and the heartbreak of leaving her two sons.
I was able to catch up with Lita to talk about her triumphant return to metal, the possibilities of being Ozzy Osborne's main guitarist in 1988, and what fans can expect from her at the inaugural 2015 Food Truck and Rock Carnival, where she will be performing this September in New Jersey!
*******
Robert Cavuoto: When you dropped out of the music scene for 15 years was it difficult to pick back up and start all over again?
Lita Ford: For me it was a fight – very difficult to do with a monkey on my back. I also wanted to focus on nothing else but raising my children and being a great Mom. That was what I cared about the most.
Living on a deserted island where there were no Guitar Centers, or people to jam with who sucked. Music had to be forgotten to save an argument. There were no radios or CDs and no television, unless we had satellite from time to time.
We didn't wear rock 'n roll clothes or high heels; only beach attire. The only time I wore leather was to keep the mosquitoes off when I walked the dogs. I only played music to teach my sons about it.
Basically who did what and when, and who their Mother is.
Robert: Were you still playing guitar and stockpiling riffs during that time?
Lita Ford: Not for the first 12 years. I didn't look at a guitar. I left them all on the mainland in a climate controlled storage unit, except one acoustic and one electric which I took to the island.  I didn't want them to rust in the salt air.
Years later, when my older son turned 8, we recorded a song with him singing lead vocals called "Destruction" and later a version of Skid Row's "Youth Gone Wild", with my son, James, on vocals. It was so much fun, working with my boys. We had so many different riffs and songs that never got used.
Robert Cavuoto: Do you know if musicians, bands, labels, management, etcetera, were seeking you out for opportunities?
Lita Ford: I really don't know. I was isolated. I'd heard through some friends they tried to reach me and send the boys gifts, but I never got the messages, nor did the boys ever get the gifts.
Robert: After the success of "Close My Eyes Forever" [the duet with Ozzy Osborne from 1988] was there ever talk of you joining his band as a guitarist? That would have been quite revolutionary for the time?
Lita Ford: That's a great question. But, it's best to read my upcoming book to find the answer to that, as it's complicated.
Robert: How quickly did you realize the anthemic impact of "Kiss Me Deadly"?
Lita Ford: After MTV grabbed it and put it in heavy rotation it went straight up. When I heard the scream of the fans when we performed it live I knew it had an anthemic impact on the world.
Robert: Some musicians from the '80s are offended by the term "hair metal" and try to stay clear of the term while others wear it like a badge of honor. What's your view on it?
Lita Ford: I personally think it's ridiculous and feel it was developed out of spite. The '80s had some of the greatest music and musicians. What hair has to do with it, I don't have a clue?
The '70s artists had a lot of hair too. It's almost racist. I mean, no one in 2000 went around calling the '90s bands "bald metal.'' Besides, I'm a chick; I'm supposed to have hair.
Robert: Tell me about the importance of taking risks both musically and professionally in your career?
Lita Ford: If you don't try, you'll never know if it's going to work. You may try something and fall flat on your face, or you may try something and sell millions. You learn by your mistakes. You must take risks to grow and progress in life.
Robert: Do you have any desire to form a super group as it seems to be a musical trend nowadays?
Lita Ford: Not at the moment. The band I have now is so crushing, and I am so proud to be with Bobby Rock, on drums, Marty O'Brien on bass and backing vocals, and Patrick Kennison on guitar and vocals. Why would I want to fuck it up? [Laughing]. That is the band of my dreams.
Click here to view the embedded video.
Robert: Tell me about how you started using BC Rich Guitars and they became your trademark guitar?
Lita Ford: A friend of a friend introduced me to Bernie Rico Sr. He took me to the BC Rich factory and gave me a red Mockingbird, along with a pink Rich Bich. I used the red Mockingbird in my "Out For Blood" video and still have both guitars.
In the early '80s BC Rich were "Beasts."  Bernie Rico Sr. had the magic recipe and the guys at the factory loved me. I tried every guitar in the shop I loved them so much. I had so many BC Riches back then; I could have opened a BC Rich factory [Laughing].
I was also trying to change my image after coming out of The Runaways, to being a solo artist. The first heavy metal female guitarist in a three piece band, I had to make a statement, and boy did I ever.
Robert: When can we expect a follow up to Living Like a Runaway?
Lita Ford: We are working on the follow up to it now; it should be out in the spring of 2016.  It's dark and very guitar orientated.
Robert Cavuoto: You'll be playing the 2015 Food Truck and Rock Carnival here in New Jersey this September, what can we find you doing backstage in preparation for the show?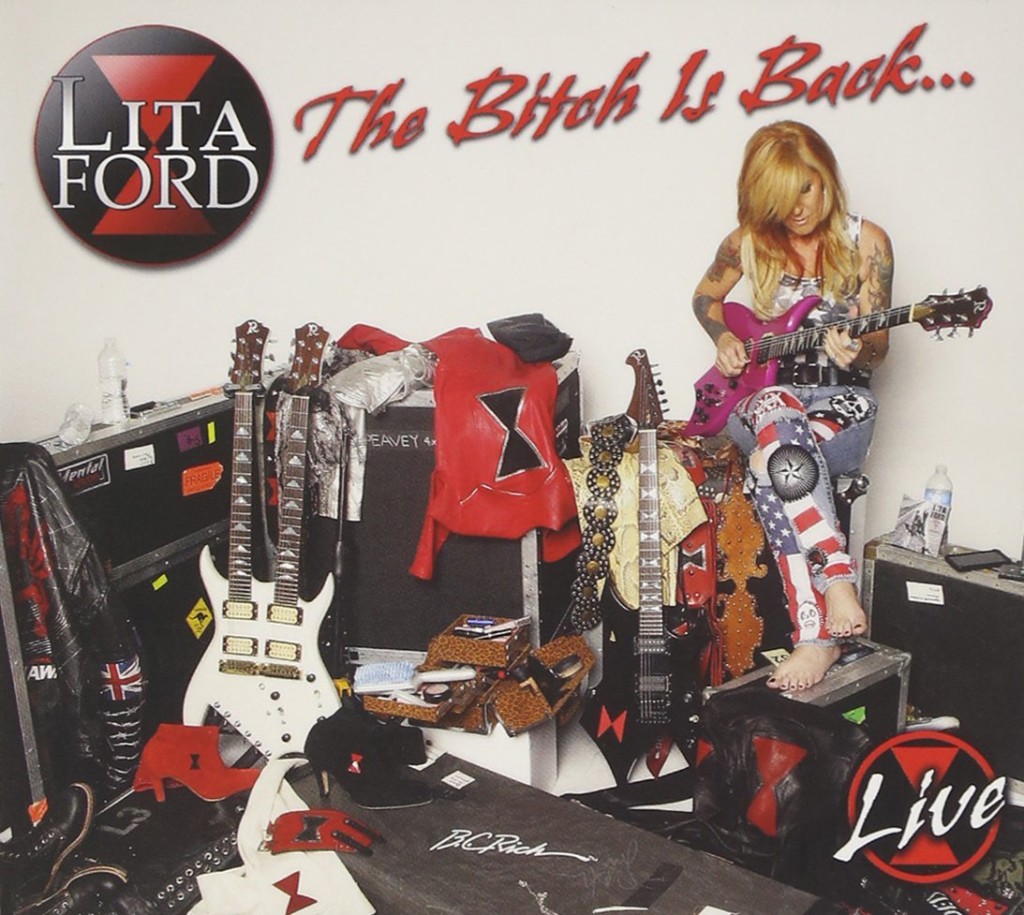 Lita Ford: We throw every one out of the back stage area, even the crew.  We lock the door and right before we go on, we huddle in a group like a team of football players.
Bobby Rock says a Zen prayer, a crushing rock 'n roll prayer. We feel each other's vibe and leave the troubles of the day behind. We've got each other's back, go on stage as a team, and don't let go until the show is over.  This is after the hair spray, eyeliner and leather, of course [Laughing]
Robert: How do you keep yourself satisfied with touring after all these years?
Lita Ford: It's what I love, it's who I am, it's what I live for – that and my children.
Robert: What song do you look forward to performing live?
Lita Ford: All of them. If they don't rock us live, we don't play them at all.

Lita Ford – Reignited, Refocused, and Out for Blood!
Source: Guitar International Magazine