By: Rick Landers 
Throughout American music history there have been milestone songs, as well as prolific songwriters with an uncanny spirit of inventiveness that captures certain rooted values or perspectives, and reflects the soul of our country.
They range from the robust martial sounds of John Phillip Sousa, the orchestral arrangements of George Gershwin, the folk originals of Woody Guthrie, Bob Dylan,  Joan Baez and Joni Mitchell, and others that stop us in our tracks by reflecting our unique American-style moods, loves and dreams, in song.
The masterful songwriter, Jimmy Webb, is another contemporary legend who has gifted us for over five decades with his own Americana magic in songs he's penned, that include, "By the Time I Get to Phoenix", "MacArthur Park", "Wichita Lineman", "Highwayman", "Didn't We", "Up, Up and Away", "Galveston" and many more.
And most recently, Jimmy has released a new album, Slip Cover, of hit songs by other well-known and lesser known musicians that include, Mike Brown, Bob Dylan, Billy Joel, Joni Mitchell, Paul Simon, Warren Zevon, Brian Wilson and Randy Newman.
Slip Cover presents songs that infiltrated our DNA  in years past and Jimmy has slimmed them down to their melodic intent, as instrumentals that are, as he says,"shaped" by their original lyrics. And he performs them with heart and and a touching soulfulness.
His selection of songs is a treasure chest of hits many know by heart from their youth, while others will discover them anew, as introductions to music they've never known. It's a beautifully rendered album, intimately performed on his favorite piano, recorded in the quiet of his home.
Slip Cover "Lullabye" (Goodnight My Angel) We met Mr. Webb while he cruised around the country on tour, when he stopped to play The City Winery in Washington, D.C. He generously played, he sang and talked to a the crowd, offering some personal glimpses into his life as one of America's most respected songwriters. And when he touched the black and whites and began to sing his songs, everyone sang along, thrilled to be in his presence and touched once again by such beautiful lyrics as, "And I need you more than want you, and I want you for all time".
During our conversation, Guitar International and Jimmy roamed the arena of music in general, as well as his music in our conversation and we dug in to talk about the craft of songwriting, his album Slip Case and bantered a bit conceptualizing ideas for follow-on releases. We also talked about heavy fueled roadsters, his deep appreciative friendship with the great Glen Campbell, and his times with Warren Zevon, Judee Sill and other fellow artist-performers.
We look forward to catching up with Jimmy Webb in the future, as he continues to gift us with new songs, and relatively unknown melodies for us to discover and re-discover, while he explores new themes and hunts for songs demanding and deserving more sunlight. But, for now, we invite you to join us while we talk to an American music icon, Jimmy Webb.
******
Rick: How about telling us a little bit about Slip Cover your latest release. How did it come together, who else is on it?
Jimmy Webb: Well, there really wasn't much to it. It's such a clean project, it's been an absolute joy to be able to just act without organizing huge numbers of people. But,  but I mean I was over at Randy Newman's, we went out to dinner and a we were up at his place, and not just dropping names here.
But occasionally we do; we do see each other when I'm in L.A. and I wandered into his little office and we were looking at some books. We share a love for history.
I sort of just absent mindedly on purpose sat down at the piano and played "Marie". I love "Marie". It's one of my deep, deep dare I say, deep dark favorites [Laughs].
Rick: Yeah, and that's the first track I think right?
Jimmy Webb: Yeah, It's very near the center of my emotional universe.
Rick: Yeah, the core.
Jimmy Webb: So, I was playing and thinking this is weird to be playing this right now [Laughs] and he said "Wow!" He said, "You should do a piano album."
And I thought, well you know, considering the source.
Rick: Sure, yeah.
Jimmy Webb: Maybe that's really something I should think about. And so, I did a demo of it and sent it over to Lenny Walker and Walker sent me a telegram and said, "Beautiful job. There's only one man that can play it better."
And then I said Laura, "You know, I've been thinking about this, this idea. I think I would like to do an instrumental album I've never done one before, in all these years"
I played on Arty's (Art Garfunkel) records. I played on Linda's records. I was kind of an ex-official member of The Wrecking Crew.
Rick: Yeah, yeah cool.
Jimmy Webb: And more or less mentored by Larry Knechtel who played side by side many, many hours in the studio. And I believe that I do kind of have a sound now.
Rick: Yeah, I think you do.
Jimmy Webb:  I don't know if I would have said that 20 years ago or even 10 years ago.
Rick: Interesting, yeah.
Jimmy Webb: My influences which are, you know, deep Baptist Church. Quite a modicum of classical training. Jazz my favorite player is ah Bill Evans.
And then the sort of country twang that creeps in from time to time. It's not major of my playing but, it is part of my sound and that's because I was heavily influenced by those wonderful Floyd Cramer records that came out of Nashville.
And so, putting all that together I thought I could probably do this. I could probably go over to Glen Cove to Tiki Studios. Then I thought, now it's getting serious. I went on another tangent I thought I always wanted to record this Baldwin piano that I have in the living room.
Rick:[Laughs] Okay, yeah.
Jimmy Webb: Because people tend to look down on them and tend to  let's say underrate Baldwin pianos, but the Baldwin that I have is better than any Steinway.
Any Steinway, it sounds particularly good on the hardwood floor in my living room.
Rick: And that probably helps the acoustics too.
Jimmy Webb: Yeah and so I thought I'll do it at home, so a great deal of it out of the 12 tracks ten of the tracks were done here and so that brought me to the stage where I was forced to start making some decisions about what I would do and really that, that was a joy all to itself.
Rick: I bet, yeah.
Jimmy Webb: Just thinking about what I would want to do and I came up with a temporary list and then crossed a bunch of stuff out, and then came up with another list, and so now we have to do a Paul Simon song. We went through a whole bunch of things, because to me this is only the beginning. I'm gonna do this for the rest of my life.
So, I came up with these, these are really heart throb songs for me that they are very, very deep and the analogy that I think is appropriate is that as an average fan, someone who is not involved in music.
Run across the song that sort of epitomizes or encapsulate a certain moment in their life and they tell me about this all the time. They say, "Wichita Lineman got me through one of the worst moments of my life."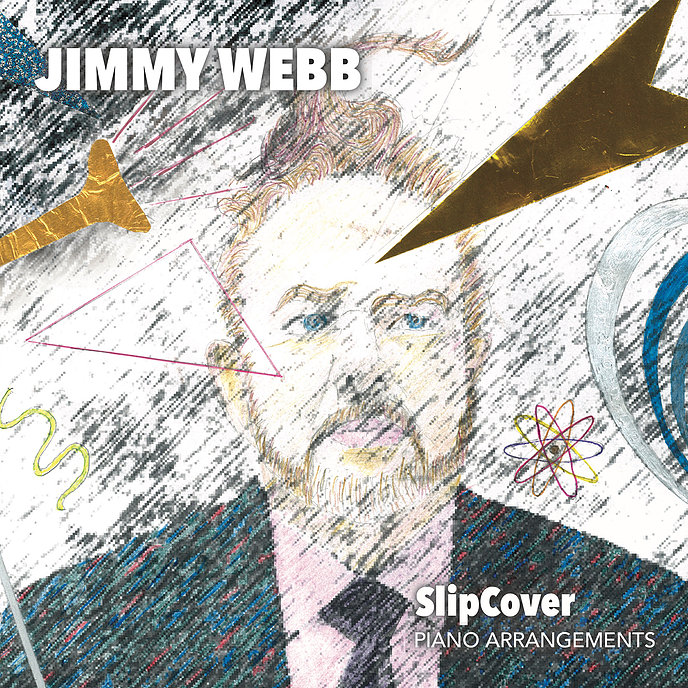 Rick: Yeah?
Jimmy Webb: And that's not me inflating, I know that people just feel this way.
And they feel this way about lots of different kinds of music, of course, not just my songs.
I'm not different than them. There's no difference, whatsoever. I have certain tunes that I've become attached to down through the years, and they mean just as much to me as my songs mean to other people.
Rick: Yeah, well that makes sense.
Jimmy Webb: And so those are the songs that you hear on the record and the single or the first release. Billy Joel's "Lullabye".
I was going through a divorce and sort of coming to terms with separating from my four-year-old daughter.
Rick: Oh, that's sad, yeah.
Jimmy Webb: And when I first started hearing him do that around millennium time, 2000. He was at Madison Square Garden and I was crying my eyes out.
I didn't want anyone to see me cry! [Laughs]
And so, that's the level that I'm talking about. So, everything on the album really has a personal feel, very much grounded and not only what I feel but what I admire in composition and the kind of chord structure that I'm drawn to.
And as an asterisk to that, also one of my objectives in creating this album was to begin the rejuvenation of the '60s and '70s composers, as being legitimate members of the great American song book.
Rick: Yeah, you reminded me of what the British players did when they pulled out the blues and re-introduced the blues to everybody. So, you're reintroducing the '60s to a lot of people in this record, I think.
Jimmy Webb: Well, I just think that these are some of the most, you know, Brian Wilson's "God Only Knows".
Rick: Perfect song.
Jimmy Webb: It's on the record, as well as Stevie Wonder's "All in Love is Fair".
Which kind of sounds like a '30s ballad. But, that's what I mean, in a paper sack, that's sort of what we came up with and we just had a blast doing it where there was no producer lurking over my [Laughs] over my shoulder. The record company which is BMG, they pretty much said to just do it and send it to us.
Rick: Oh, interesting yeah.
Jimmy Webb: And so, it's been wonderful because you just get to do it.
Rick: And I think that even though you listen to the chord structure and all the lyrics to these songs, they are also pretty phenomenal, "A Case of You" by Joni Mitchel, and then what was his name Mike or Michael Brown who did "Pretty Ballerina"?
Jimmy Webb: Mike Brown, yeah, he was one of the two partners who formed The Left Bank and "Pretty Ballerina" is the B Side to "Walk away Renee".
So yeah, because they're instrumentals and by definition can't have lyrics, but in another sense the lyrics are there, there's a void where the lyrics that shaped the lyrics.
Rick: Sure.
Jimmy Webb: When you hear "Old Friends", I would venture to say almost everyone puts the lyrics out, so in particularly, real fans and real aficionados of '60s and '70s music. They know all those lyrics.
Rick: Yeah, I think that's true, you don't forget them.
Jimmy Webb: But, what they haven't really heard is they haven't heard the tunes stripped of all the production and the drums.
Rick: That's true.
Jimmy Webb: No offense to the original records, obviously these were hit records.
Rick: Yeah, they worked.
Jimmy Webb: I'm just scaling it back one step further and saying, "Okay let's just deconstruct the basic material here." What makes this so like honey to a bee, why are we so drawn to "Moonlight Mile" by Richards and Mick Jagger? Which, I could never get it out of my head! It drove me crazy for years, I could never get it out of my head.
Rick:  It's like a TV commercial [Laughs]
Jimmy Webb: [Laughs] Yeah, and it is now well I sort of regret to hear that, but you know.
Rick: I'm sorry, you're sorry to hear what?
Jimmy Webb: I thought you said it's a TV commercial.
Rick: No, no it sticks in your head like when I was younger, I remember singing the American Airlines jingle. That just stuck in my head, so I'm really just talking about being stuck in your head, not that the song is superficial or commercial.
Jimmy Webb: Oh. Yeah, I think that's the primary calling card of a hit song is that the first thing that happens, is it get's stuck in your head.
Rick: Yeah, exactly.
Jimmy Webb: And so, I guess I'm sort of exploring a little bit and doing some forensic. It's almost forensic, it's like okay, let's look at this really closely, "The Long and Winding Road". Why is it so compelling?
And to strip that back to the melody, to the melody that critics like to say was missing from most of the songs.
Rick: Yeah.
Jimmy Webb: And I took issue with it then, and I take issue with it now.
I think that our crowd, our guys, my friends I think that they produce some of the most beautiful melodies, ever.
Rick: Oh yeah, definitely.
Jimmy Webb: How could you even think about melody without thinking about "Yesterday".
And then me and Mr. Sinatra, he jumped on "Yesterday" with both feet. You know, I could just hear him say, "Hey, you know, we can do that one."
Rick: [Laughs]
Jimmy Webb: So, there it is, there's the inspiration that kind of follows through and then the realization that, my god you know we've actually done this thing and it hasn't taken years. It hasn't cost millions of dollars and the first person I ever played it for was Billy Joel. I played "Lullabye". And he sent a very, very nice note over. He lives like a block away.
He sent like a very nice note over saying ''You know it's true you are a better piano player than I am." [Laughs]
Rick: [Laughs]
Jimmy Webb: Absolute joke.
Rick: [Laughs]
Jimmy Webb: So please, don't put that in any kind of serious context.
That's just him and me, sort of tweaking back and forth.
Rick: So, these songs that you've picked, these hit songs, have you thought about doing songs with people who are artists, as well, but they're not well known, like Nick Drake and Judee Sill, Tim Buckley, Jimmy Spheeris and John Martyn?
Jimmy Webb: I absolutely have. What I think that I would like to do is to sort of explore the frontier fringe, where in the past, like Judee Sill was only there for a very brief time.
Rick: Yeah Exactly.
Jimmy Webb: And So those songs are easy to overlook.
Rick:  Yep, very easy.
Jimmy Webb: And so, I would definitely do that.  A working title for that I would call that, Songs from the Fringe, you know?
Rick: Yeah (Laughs), that's a good one!
Jimmy Webb: Or unsung heroes or something like that.
Rick:  And the only one that's still alive today is Roy Harper over in England, but you know the others have all passed away and Nick Drake was just brilliant, but you know that.
Jimmy Webb: Maybe you and I will talk about that when the time comes, because maybe you can turn me on to some beautiful melodies.
Rick: Oh yeah, sure.
Jimmy Webb: That's what I'm looking for. I also wanna do and with the same blessed formula, let's add some strings. [Laughs]
Rick: Well, you know as far as strings I think Danny Thompson the bass player, he's phenomenal. He's like a legend too who played with John Martyn, Tim Buckley and Nick Drake and a few others. I think he's still playing, so that would be cool to have a nice stand-up bass player.
Jimmy Webb: I think we might go that far. I think we might have a minimalist approach to it and we might have some special guests, that are attached to the songs. That really means something in terms of the song.
Rick: Yeah have you heard of Lisa Hannigan?
Jimmy Webb: Yeah.
Rick: Yeah, she's brilliant too.
Jimmy Webb: Really good.
Rick: Yeah.
Jimmy Webb: Dar Williams.
Rick: Yeah, Dar Williams is out there. There are some great folks out there. And there are some unknown people who are really good, it's just finding them.
Jimmy Webb: Yeah, I remember playing with some great composers at the Bottom Line. I also wanna do and this is clear in my mind. I wanna do a Celtic album.
Rick: Oh, well you met the Irish girl (Siohban O'Brien) at the City Winery in D.C..
Jimmy Webb: Yeah, she's a joyful wonderful person.
Rick: Yeah.
Jimmy Webb: I really liked her.
Rick: There's a guitar player, Martin Simpson. I tend to like fringe music sometimes. I use to pick out albums just you know, serendipity, years ago and I just got lucky and found Jimmy Spheeris. Judee Sill, I just heard about her about eight months ago so.
Jimmy Webb: You know I played a gig with Judee Sill.
Rick: Did you?
Jimmy Webb: Yeah, it was at the Main Point in Philadelphia.
Rick: Wow!
Jimmy Webb: And the lyrics actually, kind of found its way into one of my lyrics. God bless Philadelphia when they are standing in the rain out in front of the Main Point wet and lonely train and it was who they came to see. A mad man full of beer.
It's a song that I wrote for Waylon Jennings. It was all based on this one night that we all played, me and Marion and Judee and it was funny, because they had no dressing room and it was just the basement. [Laughs]
Rick: [Laughs]
Jimmy Webb: Judee, her dressing room was like, she hung up a sheet with some clothes pins.That was her dressing room.
I mean this is going back to the roots.
I don't think that people really know how gritty my career was when I started performing, I started at the bottom.
I turned down a gig at Caesars Palace and I went to the Bitter End. I was a serious guy. [Laughs] I didn't wanna, you know, get lost in Las Vegas.
Rick: [Laughs]
Jimmy Webb: Actually, that's a pretty good title.
Rick: Yeah.
Jimmy Webb: So, there's the Celtic album. Then I have to do an album of hymns for my mother.
She started all of this and some of the most beautiful tunes, and again we're back to the central theme here, which is melody.
Rick: Yeah.
Jimmy Webb: Some of those beautiful tunes that you'll ever hear in your life are in the hymn book. So, I want to do one of those and then I just would just like to continue to memorialize, as we've noted, great melody, both famous and not so famous.
Rick: Right.
Jimmy Webb: And I think they'll all probably be all Slip Cover, and then they'll be a sub-titled, after the first one. But, they'll all be a Slip Cover series.
Rick: Yeah you have a basic theme and then have sub-themes, I guess.
Jimmy Webb: Yeah.
Rick: Yeah, I'm writing a children's book series at the moment and very similar concept to do something like that. So you know, Judee Sill also some of her background was in hymns and so you have sort of a similar strain and I always thought it would be interesting to go back and see what older songs sounded like and trying to draw what you can from those, and do some modern music and maybe that's what everybody does.
Jimmy Webb: Well, the week after we played the gig in Philadelphia Jim Croce's plane crashed and Maury was killed. And then you know, Judee went down the path she went down.
She was a wonderful lady. I remember one of her lines, "Sweet silver angels over the sea…".
Rick: Oh, yeah.
Jimmy Webb: [Laughs] remember that?
Rick: Yeah was that from "Jesus Was A Cross Maker"?
Jimmy Webb: Yeah.
Rick: Yeah, that song was about J.D. Souther, apparently.
Jimmy Webb: I didn't know that.
Rick: Yeah, interesting, beautiful music. Do you ever listen to Jimmy Spheeris?
Jimmy Webb: Yes.
Rick: He had some beautiful music and he got hit by a motorcycle or something so.
Jimmy Webb: Oh, god.
But, from the grace of God that could have been me, because I was a wild child.
Rick: Well, I saw you had a Cobra?
Jimmy Webb: Yeah, I bought Carroll Shelby's Cobra.
Rick: Did you really? Ah, how cool!
Jimmy Webb: Yeah, there's a picture of it in my memoir on the title page. It's a picture of me leaning up against it in my driveway.
Rick: Was that the 427 or 289?
Jimmy Webb:It was no, no, no it was, first of all it's one off and it was Carroll's car and he had it bored to 428. And he had two Paxton type low profile superchargers.
But, it still had a big bulb of, you couldn't mistake it for any other Cobra it had a big bulb of a scoop on the hood, most of them were dainty.
Very pretty. This car looked like it was going to eat you. And it was probably one of the highest horse power ratings for its day. it would turn 700 horses.
Rick: Wow! Yeah.
Jimmy Webb: And I use to drive it. It was my car.
Rick: [Laughs] It could be a scary car to be driving around. [Laughs]
Jimmy Webb: [Laughs] You know in L.A.?
Rick: Yeah, crazy you probably get frustrated in traffic I would think.
Jimmy Webb: No, you know the thing is in those days Rick there was a little bit more room.
Rick: That's good. I used to have a '65 Corvette with lots of low end torque. But yeah, the Cobra's they are just monster cars. I mean its all just muscle, it's just muscle.
Jimmy Webb: Talking about torque. You know there was another car, it was the sister car. This one I would say, it was the lady. This is the gentleman and the lady car which is not quite as hairy.  I don't think it was bored out, not sure.
Rick: By Shelby?
Jimmy Webb: Shelby sold everything at one-point, because he was broke, and he sold everything. I paid $15,000.00 for that car.
Rick: What year was that?
Jimmy Webb: That was a '69.
Rick: That's a lot of money back then, but man what a car. Built by him it's probably worth a couple hundred grand or more. Maybe more than that.
Jimmy Webb: It went in auction bout five years ago for 5 million dollars.
Rick: [Laughs] Well, I was off a little bit. That's funny. That's incredible, well you should have kept it.
Jimmy Webb: No, I shouldn't have got divorced.
Rick: [Laughs] Well that happens too, but you got a lovely wife right now, she's sweet.
Jimmy Webb: Yeah, she is. well you know, I'm proud of her I'm pleased with her, I'm in love with her and I never thought I would be in that position. I always thought of myself as kind of you know, a loser in love, always setting my sights a little too high.
Rick: Yeah, well.
Jimmy Webb: And in this particular case I…
Rick: You set them high and you won.
Jimmy Webb: I may have been shooting high, but the angels were on my shoulder.
Rick: Yeah, she's pretty and I looked at her background and she's got a solid background herself in television, right?
Jimmy Webb: She's going like a speed demon. Speaking of her speed. She's working on her third Parkinson's documentary, the first two were nominated for Emmy's.
Rick: Really? Good for her!
Jimmy Webb: She books and produces The Kate which is.
Rick: Yes, I'm familiar.
Jimmy Webb: The Helphron Theatre which is a national program that comes out of Connecticut, she just did her season closing over there with Mofro. Do you know what I'm talking about?
Rick: Not really. I heard the name, I don't know anything about the group or the person.
Jimmy Webb: Well, maybe you'll have time to check in and check out the show. This guy's now he's playing four or five thousand seaters, he's a joy.
I mean that's the way I would describe him. He preaches happiness and joy and we're in a pretty somber universe now, you know what I mean.
Rick: It's sort of like John Denver was kind of the, had the same kind of persona, I don't know Mofro but I wrote his name down so.
Jimmy Webb: JJ Grey and Mofro. It's airing nationally on PBS in May.
Rick: PBS, okay I'll check it out.
Jimmy Webb: Yeah and you'll just get a taste of what Laura does.
Rick: Okay, thanks,.
Jimmy Webb: In fact, she said she'll send you a link.
Rick: Okay. Hey, I offered her an interview last time when you were playing in D.C. Winery. Tell her I was serious about it.
Jimmy Webb: Here talk to her for a minute.
(Laura and I have a side discussion and agree to do an interview, before Jimmy and I return to our conversation.)
Rick: I'd like to get into the process of actually writing a song, When you're writing a song do you just kind of noodle around on your piano until you just find a lick that you like and you just start digging and you add the lyrics or do you start with lyrics, or are there different processes that you go through?
Jimmy Webb: Well, it depends. I think that there's three. There's probably more, definitely three major highways into the song and one of them is you hear a little turn of melody or a chord change, maybe it's just two chords that you know that get your attention and you begin building a little progression and that's the musical way in. You know, it's kind of frowned on by the traditionalists like Alec Wilder, who said his ultimate criticism of a song would be it's chord based.
Rick: [Laughs]
Jimmy Webb: That was an insult.
Rick: [Laughs] Oh, that sort of gets to my heart.
Jimmy Webb: [Laughs] Yeah, but I love chords and many, many times that's the roadway into  the whole thing! Another one is the great title.
Rick: Yeah.
Jimmy Webb: Like a Paul Simon, "Still Crazy After All These Years". Okay, well, that's a great title.
Rick: Yeah.
Jimmy Webb: You can't hardly go wrong with that, as long as you just stick to the DNA that's in that title.
And sort of build the song around that and add a melody to the lyrics that come out of the title, and the other thing, is maybe you don't know the title when you start writing. Maybe you have a few great lines that sort of stick together well. Maybe you say, "Oh my God, this is the line I need right here, to end the verse!"
So, the verse comes first and then the title comes, and I think those are, basically you could say the chords, a great song needs three elements, a melody, so I have a lot of times been inspired by a melody that just gets in my head and won't go away.
Rick: Yeah.
Jimmy Webb: So, I finally have to do something about it.
Rick: Do you record them, or do you remember them, because I find sometimes, I walk away and like three hours later I'm like, "Ah, hell, how did that go?"  It takes awhile to get it back sometimes.
Jimmy Webb: I always have a note book with me and I am a student of music and I can write it down.
So, a lot of times in the middle of the night, I'll grab my pen and note book and I may write down four bars quickly and in the morning I'm looking at it going, "Is that an F? Is that a, what is that, oh that's a Y!" (Laughs)
Rick: [Laughs] That's funny.
Jimmy Webb: But, I'm a firm believer in the music, I need to make a note no matter what's going on, no matter who's in the room, you know what I'm saying?
Rick: Definitely.
Jimmy Webb: Because, you have to make the world stop for a second while you…
Rick: You don't wanna lose it.
Jimmy Webb: You don't wanna lose it, because once you've lost it, it's pretty irretrievable.
Rick:I have a line that I used in this song it's called, "If I'd Given My Heart to You, I Wouldn't be Lonely Now",  that ended up being the title. [Laughs] It's a country song.
Jimmy Webb: Oh yeah, that's a nice title.
Rick: Yeah, turned out well.
Jimmy Webb: Nice title.
Rick: So, have you found you have written a song and you've kind of embraced the song and somebody else does it and you're like, "What?" And you almost has to, you almost have to give up the song and let it be itself. And not be attached to you.
Jimmy Webb: No, I don't think that there is any qualifier. I think that once you've written a song, really, your job is done. It's like a mother gives birth to a child, a child goes out and that child maybe Charlie Manson. But, you know, there's not much that she can do about it to a certain point.
So, I sort of, as an exercise, I let them go, because there have been times and I'm not going to tell you which versions I'm talking about, but, there have been times when I've heard versions of my songs that it's, just how could they do this?
Rick: Is it painful? [Laugh]
Jimmy Webb: [Laughs] No, I can't afford to make enemies. I'm a struggling songwriter. But,  sometimes you know, it's a thrill. I remember when Pat Metheny did an instrumental, but the thrill was all the hairs stood up on my body.
So, when you do connect with an artist and they actually bring something to the party. That's really the good stuff.
Rick: Yeah that's special.
Jimmy Webb: Oftentimes that's the hit.
Rick: So, when you're doing a song do you talk to your wife and ask, "Does this sound good to you?" And, do you get the validation you want? Do you trust the validation? I guess my question is who do you go to, to make sure your song is actually as good as you think it is? Or does that make sense for you anymore?
Jimmy Webb: Well, it use to be Glen (Campbell) I played everything for Glen. And I could read him like a book. He would always go, that's great blah blah blah, but there's degrees of great and I would know if he thought it was, that it could be better.
I actually remember once playing a song for Mr. Sinatra. Having him say something like, "Well maybe you're a little premature on that one."
I could have killed myself, because I knew that I wasn't finished with it, but I was with him and I had the opportunity. It was called "Winter Clothes", great title. I'm putting on my winter clothes. It was about losing a girl.
Rick: Yeah, a lot of them are right?
Jimmy Webb: So, when I had the opportunity there was a voice saying very strongly don't do this, don't do this and I did it. I played the song for him and he said this one sounds a bit premature. I mean he was right on top of it.
Rick: Spot on.
Jimmy Webb: And you know, a couple of experiences like that will make you very, very careful about who you choose to try your material out on.
Rick: And when to do it I suppose, I guess.
Jimmy Webb: And Laura's great, "Oh, I like that."
Now, that's about it from her, but then sometimes she'll actually come in and say, I don't understand why blah blah blah. She'll say I don't understand if he loves her so much and why does he do this and this? She actually analyzes from a, well I guess a feminine point of view.
Rick: Well a real-life perspective feminine point, I think that maybe we don't pick up sometimes.
Jimmy Webb: Or she'll say, I don't think she would do that. But, she's not a meddler. Usually I'll say, "Tell me what you think." "Oh, I think you should work on it some more."
Rick: [Laughs] Whatever that means. Wait a minute honey! That's funny. And you may not have a single fond memory of him, but if you do give me one of your fondness memories of working with Glen Campbell, or just being with him.
Jimmy Webb: Well, one of the pictures that stands out for me is when the Campbell's lived in Malibu and they lived up on the high ground with beautiful views of the Pacific Ocean. And it had a big room downstairs and a fireplace and I remember one night that he was sitting in front of the fireplace with Ashley, who's an indescribable beautiful young girl. And she was at that time I think about 11 or 12 years old.
And they were sitting in front of the fire and they were sort of, it was one of those foggy days and the sun was kind of mushing down the way it does in California when it doesn't want to give you a sunset. Which is kind of anticlimactic, the whole thing and the fire came up and it was lighting their faces and it was lighting the fretboard on the guitars.
And she's watching him with an intensity that I would liken to a young falcon, and she's watching every finger move on that fretboard. She's learning to play her guitar, exactly like that, and he's just kind of laid back in his chair and he's playing. He's teaching his daughter.
Rick: Yeah and he did that until the end, because I saw him on his last tour and his family was there watching him lovingly, and it was very poignant.
Jimmy Webb: He was, I think always teaching them from the time they could pick up guitars. They wanted to be like daddy. He wasn't a stage dad. It would be hard to prevent them from being like, dad he was the Rhinestone Cowboy.
Rick: Yeah, exactly.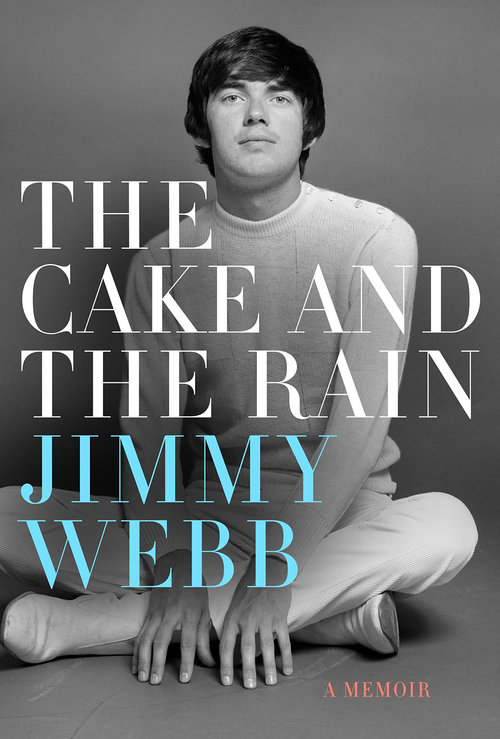 Jimmy Webb: He was incredibly patient, so I have this, it's sort of a cross between a real nice photograph and an oil painting that's, it's in my brain and it's light from a fire and this beautiful blonde child just watching daddy's hands.
Rick: What a memory to be able to recapture over and over again.
Jimmy Webb: Well look, he was a wonderful, wonderful person. I'm far from being over that the fact that he's not here anymore, because I went to him so much for advice, for affirmation, for opinions and then sometimes just because he was the best.
Rick: Yeah, well, he was. He was pretty amazing.
I don't know if this was after he knew he had cancer or not, but Warren Zevon once said,  "This is a good job; it's been a good job. Work is the most effective drug there could possibly be." And so, he must have been like, head to the grind stone, I know that he worked up to his death.
Jimmy Webb: Yeah, he (Warren) was completely clean. He and I were communicating. I knew him for a long time. And I've lived in New York for over 30 years now. When I moved here. He was kind of my connection with L.A., hen he would play the Bottom Line, which he did pretty frequently. I would try to be there.
I might have missed a couple of shows, but most of the time I was there. And it was like rejuvenation and he called me a little while before the diagnosis.
He called me, and he said, "You know, I've always wanted to do something with you." I said, "Well, I'm one of your biggest fans."
And I said, "I'm very honored, I'd do anything with you" I said, "Literally anything."
Rick: Yeah.
Jimmy Webb: And he said, "Well, I don't know when you're ready for this one."  And I said, "Well try me out." He said, "I want to do an album of sacred material."
Rick: Really, that's different.
Jimmy Webb: Yeah and you could have pushed me over a cliff with a puff! I would have gone right over, because that I wasn't prepared for. Really, but I took it in stride because, I mean you're doing something sacred? I didn't want to react like that, and we both, both of our fathers were ministers.
Rick: Oh, really?
Jimmy Webb: Yeah, and so we shared that, we sort of knew that connection. And I think we knew each other better through our music than we did as friends.
But, there was, oh god I would give anything if he was still with us. I sort of got into a thing with him, I started sending some lyrics. Some were like just jokes. I would do parodies.
Rick: [Laughs] I've done that myself.
Jimmy Webb: [Laughs] And I would send them to him, and I don't think he always appreciated it.
Rick: Well, you know, I was thinking of "MacArthur Park" and I saw that you had done "Accidentally Like a Marytr" of his.  So, where is the connection here? And so, when I thought of MacArthur's Park you've got someone left a cake out in the rain, I thought you know that's a lot like the Warren's "pioneer chicken stand" lyric. So, there's a sort of banality to it and I don't mean that in negative any way. There's a special way to write like, that you two have in common, maybe with an off-beat sense of humor, or whatever it is.
Jimmy Webb: Well you know that song was one of my favorite songs of his. (Jimmy sings) "I was sitting in the lobby of a…".
Rick: Hotel, yeah.
Jimmy Webb: And the something, something hotel and he talks about how he believes that.
Rick: Then he wants something about paying his rent.
Jimmy Webb: California falls into the ocean.
Rick: Yeah.
Jimmy Webb: I think this hotel will still be here.
Rick: Until I pay my rent. [Laughs]
Jimmy Webb: "Until he paid his rent", right.
Rick: Yeah clever.
Jimmy Webb: And then he goes into this absolutely brilliant thing where he said, and the air conditioner went hmmm [Sings]
Rick: Yup, perfect [Laughs]
Jimmy Webb: And the whole thing is the air conditioner humming this little song.
Rick: As you're going, and I think this is probably true of maybe some other songwriters, but as your going through life do you hear things and occasionally go, "Oh that's an interesting sound.", and maybe you could use that for something or do you think that's more subliminal?
Jimmy Webb: I quite often do, as a matter of fact, you sort of touched a nerve. I quite often have thought about going on a sabbatical and just for a year. And just recording sound, just under the general category of sound. Equivalent to you know, like construction sites.
Rick: Right, industrial.
Jimmy Webb: Industrial stuff, airplanes, birds. Just looking for the musical in the mundane.
Rick: Yeah that's an interesting concept.
Jimmy Webb: And then massing hopefully like a trailer load of this stuff and then coming back and going through and perhaps writing a symphony.
Rick: Yeah, interesting.
Jimmy Webb: I've thought about that a lot.
Rick: Yeah, well you've got time [Laughs] I told my wife I said you know when I was younger I worked on my resume. I was building my resume all these years and I said now I'm working on my obituary. [Laughs] She looked at me like I was crazy. [Laughs]
Jimmy Webb: You know Rick, it's just all about you just keep living.
Rick: You keep working. I'm retired but I'm more busy then I think I've ever been and you're probably busy as you've ever been.
Jimmy Webb: I can almost say the same thing.
Rick:  Do you find that you take on a lot more than you should?
Jimmy Webb: Yeah, I do and so does Laura. Laura's the guilty one. But, my partner in crime Harry Nilsson use to say. "Don't worry about death." He'd say, "Death is just the first moment in your life that takes place without you."
Rick: [Laughs] Well, he was a funny guy. He's an interesting guy. Harry Nilsson. I haven't heard his name for a while.
Jimmy Webb: I remember the day he told me that. And I thought, "Man, this is just not your average, you know, weed puffing…".
Rick: Yeah, I mean you think of the songs that he did. "Me and My Arrow" and the others and it doesn't sound like he, given his personality and from what I understand, it doesn't sound like he'd be the guy writing those songs.
Jimmy Webb:  I'll tell you how that works out. He walked into my office one time when I had an office at 890 Broadway. And pinned on almost like a political campaign button. He pinned it to my shirt, and it was a big thing almost the size of a baseball and he pinned it on the front and the legend on the pin was, "Don't Postpone Joy".
Rick: Perfect.
Jimmy Webb: He would say let's go have a drink [Laughs]  And four and a half days later… [Both laughs]
Rick: WelL, he and John Lennon use to hang out a lot right, so those two were, like wild.
Jimmy Webb: It's like Danny Hutton use to say. Well, his famous quote about Harry that's in the documentary is. "Harry was a ride." Harry was a ride, you know.
Rick: [Laughs] That's funny. So, how's your ride going so far? Pretty good?
Jimmy Webb: I'm going great…I'm going great. I've lucked out. I'm looking at a my life, with the exception of several notable mistakes.
Rick: [Laughs] Yeah well, we all do that.
Jimmy Webb: Has been kind of charmed. And I still have a lot of people who love my music and I've lived to hear people love my music 50 years later.
I've actually lived long enough, which is a miracle. I've actually lived long enough to witness that. I think I'm a very, very lucky guy.
Rick: Well, if you drove that Cobra around, I would probably agree with you.
Jimmy Webb: I wrecked it about two or three times.
Rick: Did you really?
Jimmy Webb: One time it burned. I got out of it, but it burned
Rick: Yeah, I had an old Porsche and that happened to me. The guy I bought it from had had Weber carburetors and I just bought car. They just starting smoking. I opened it up and it was all these flames. So, it was scary, a little scary. You've probably been through that.
Jimmy Webb: Let me tell you something funny.
Rick: Okay.
Jimmy Webb: I had just put weber carburetors on it!
Rick: Oh, there we go.
Jimmy Webb: I reworked; I should never have touched Carroll's engine. It was geared, it had so much horse power and it was geared in such a way. That if we were never going fast enough, it would cough and sputter and backfire all the time.
Never going fast. So, I put a 411 rear-end on it and a 4 on the floor an I put 8 Weber's on it.
Rick: What did it have a 3 speed? Why did you put a 4 on the floor?
Jimmy Webb: Because it had an automatic.
Rick: Ugh, why would he do that?
Jimmy Webb: A lot of people don't believe that, but he had an hydromatic tranny in it.
Rick: Probably, because he was in L.A. and he probably didn't want to be shifting all the time. You know with a heavy-duty clutch.
Jimmy Webb: I found out the hard way. Because well, it's a semi-long story, but it blew up. I had a gas leak in my trunk. A slow leak in my gas line.
Rick: Yeah, wow!
Jimmy Webb: And the trunk was full of fumes. It was just a traveling bomb waiting for a spark.
Rick: Yeah, you're lucky.
Jimmy Webb: And well, I'm lucky and I've got an angel on my shoulders.
Rick: Yeah, that's terrific. Hey, let's talk again when you're ready to do another album if your looking at some obscure folks to do some brilliant stuff. Let's chat.
Jimmy Webb: Yeah well, the thing I'm most interested in is tunes, melodies. The neglected, hardly never heard or never heard melody.
Rick: Do you do anything for charity? I know you said that your wife did some stuff for Parkinson ,do you ever do stuff for other things?
Jimmy Webb: Well, yeah, I'm going out to California to do a benefit, it's a big stage show with a bunch of other people for the National Native American Museum. There's going to be a huge national museum for Native Americans.
Rick: Another one? There's one in D.C..
Jimmy Webb: Yeah, this is another one and it's going to be in Oklahoma.
Rick: Oh, that's a good place for it.
Jimmy Webb: Yeah.
Rick: Sort of the end of the Trail of Tears, right?
Jimmy Webb: Well, I meant I do that. I do Alzheimer's. I do a lot of work for Alzheimer's. In fact, I did a concert at Carnegie Hall for Alzheimer's.
And so yeah, I mean, I don't put myself forward as a great philanthropist, because you know I'm still working. I'm still working, I'm not saying… I'm not Bill Gates. But, I do the best I can.
Rick: You've done well.
Jimmy Webb: Well thank you, thank you Rick.
Rick: It sounds to me like at this point. And we all go through growing up stuff. I haven't been divorced, many of my friends have so I think you get to the point where, if you're smart you can actually balance things probably at the end and it sounds to me like you've got a pretty good balanced life.
Jimmy Webb: Yeah, you know, it's like those Olympic Ski Jumpers. If they save it at the last second. Then it's a win.
Rick: [Laughs] That's funny, that's funny. But, I'm sure you've done a lot of fine things throughout your life and it's good at the end to be you know, like a gracious gentleman and I was really pleased at the show that you didn't come out with a bunch of flash. In some ways, you're look like a guy next door and you came off as being one of us. Which I thought was just perfect. And the music.
Jimmy Webb: Everyone once in a while, I do. I will have to tell you. I do indulge myself. But, usually it's south of the Mason Dixon line [Laughs]
Rick: [Laughs] That's funny. Hey, have you ever heard of Santo and Johnny?
Jimmy Webb: Oh yeah, have.
Rick:. They did "Sleep Walk".
Jimmy Webb: Yeah, love it.
Rick: Yeah this is the 60thanniversary of that song which came out in 1959 when it was number one.  But, his music is Americana, just like your music is Americana.
Jimmy Webb: Really is, it's got a special, I'll have to think about that for a while. I might do one of those songs.
Rick: Yeah, well "Sleep Walk"'s pretty wonderful.
Jimmy Webb: I love that melody. I love that, I can hear that.
For more information on Jimmy Webb please visit:
Jimmy's NEW RELEASE SLIP COVER is Available HERE!

Legendary Songwriter Jimmy Webb Talks About Songs, Songwriting and Cobras
Source: Guitar International Magazine