By: Robert Cavuoto 
The Dead Daisies are Doug Aldrich and David Lowy on guitar, John Corabi on vocals, Marco Mendoza on bass and newest member Deen Castronovo on drums.
The Dead Daisies new CD, Burn It Down is set for release on April 6th, 2018 via Spitfire Music/SPV. The band is re-energized and coming out swinging with their heaviest and most powerful CD to date. The first three tracks on the CD are monstrous; "Resurrected," "Rise Up," and "Burn it Down;" and the CD only gets better for there with a ballad "Set Me Free" which is rich in guitar tone and texture.
The closer, "Leave Me Alone" is hard-hitting, as the band never takes their foot off the gas! The band will embark on another World Tour in April with shows in Europe, Japan, United States and South America.
I caught up with Doug while the band rehearsed in New York City to discuss the making of Burn It Down, Brian Tichy's departure, and what fans can expect from while on tour!
******
Robert Cavuoto: I think Burn it Down is The Dead Daisies best CD to date. It's a heavier CD than previous CDs with no filler. Did the band have any discussions prior to writing the CD in terms of overall music direction?
Doug Aldrich: That's really nice of you to say, as I'm happy to hear it. We had a good time making it, and I think we were a little more focused on this album in what we wanted to accomplish. I'm happy we were able to add some different colors as not to remake the last album.
We talked about making this album a bit heavier. After touring in support of the last album for a couple of years, we found that "less is more" with the The Dead Daisies. That simpler riffs with more straight-ahead groove songs resonate with our audience, especially at festivals.
A song like "Make Some Noise" always works, so we tried to go for some big riffs like that. Our producer Marti Frederiksen was a huge part of it. He was involved at the writing stage, and we used some vintage gear as well. We definitely talked about what we wanted to achieve.
Robert Cavuoto: Are you more comfortable songwriting now than when you first joined the band?
Doug Aldrich: Maybe a little bit.  We got some good songs last time we just didn't talk about what we were going to do beforehand. Playing together for as long as we have doesn't hurt, also knowing each other's strengths so we could hone in on them.
Robert Cavuoto: How did the making of Burn It Down differ from the making of Make Some Noise?
Doug Aldrich: One of the main differences is that Deen came into the band and took over on drums. Brian is on one of my best friends, and I always miss him when he is part of something then goes. I thought Deen was the perfect guy to come in and step things up for the band. Aside from that, the other difference was we wanted the straight ahead kick in the teeth sound; guitar-wise, on the last record but with more of a vintage tone. We used some fuzz boxes, and I sometimes recorded through a Leslie cabinet as it has a vintage 70's vibe.  The sound on this album was Marti designing. When we told him our vision and he said he could do it, but we would have to give him total control and couldn't change our mind mid-stream. We gave him control, and he designed the sound the way he saw fit. It worked out really well.
Robert Cavuoto: How many songs did you write for Burn It Down?
Doug Aldrich: We wrote almost 25 songs; some without lyrics but with the structure intact. We narrowed it down to what we liked and then Marti selected the ones he wanted to focus on which were the 11 songs on the CD. We had the two covers; "Bitch" by the Stones and "Revolution" by John Lennon.
Robert Cavuoto: The band writes such great songs why do you still add the cover songs now that you are established?
Doug Aldrich: It's something the band has always done. When people didn't know the band, the covers really helped with their exposure, but we continue with it because we really enjoy adding them. "Bitch" is such a great song that we wanted to reintroduce it to our younger fans. The song has some great riffs, and we put our spin on it. Even though we are getting to a point where people know our stuff, there are still people who don't know us, so these covers help establish ourselves.
Robert Cavuoto: What guitars did you use on the CD?
Doug Aldrich: Primarily I used my Gold Top Les Paul for a lot of it. Also, ESP built two Telecaster customs for me that I really love. In the past, I used to have a ton of guitars for all these different parts in order to get additional color. For example, when I was working with Whitesnake, it would be an acoustic day, and I would bring ten different acoustic guitars and put ten different microphones in a circle around me. I would then record each guitar using a different mic looking for the best sound.
You can spend an entire day doing it and by the time you are ready to record you don't even want to play. [laughing] This is what is different about the Daisies, we just knocked it out! That's what we do!
For the upcoming tour, I have a John Suhr single cutaway guitar called the Ora, which is insane. It's similar to a Les Paul style with some cosmetic changes to the design and improvements to the intonation. I still have to break it in, there is a video of me playing it on my Instagram account, I barely warmed up, and the guitar played itself. I'm also going to take a Gibson double neck out on tour as well. Some of the songs have more flavor in them and need a different treatment live.
Robert Cavuoto: Tell me about Brian Tichy's departure from the band.
Doug Aldrich: It was amicable; it would be more interesting if it weren't! [Laughing] It came down to him wanting to accomplish some things on his own and wasn't sure what his schedule would be for the year. He decided with management to get someone in his place for the album and the tour, as it would be difficult to find someone who would play like Brian for a tour after the album was made. Brian supported Deen joining. Whenever you change a member the sound changes. As long as it's going in a good direction its fine.
Robert Cavuoto: Was Deen selected because of your connection with the Revolution Saints?
Doug Aldrich: Marco had known and worked with Deen in a band called Soul Circus. Everyone really knew him. Deen had taken some time off to get himself together. He did a phenomenal job on the Revolution Saints record, but he really wanted to get back on the road. He is recovering and sober for three years. He is the best "Deen" he has ever been. He is full of energy, positive, and happy to be with the band. We flew him to the writing session and got it right away. He can play anything, but with the Daisies, it's important to understand the simplicity that we all keep in mind, and he got it after hearing the demos.
Robert Cavuoto: You have an upcoming European and US Tour, what songs from the new CD can we expect to hear?
Doug Aldrich: "Rise Up" for sure will be a big one live. I hope we do the ballad "Set Me Free," as I love the version on the album, but it sounds more expansive and emotional live. We've relearned and rehearsed the entire album because we don't know what is going to work and go over the best. We will swap different songs in and out of the set list to see what works.
Robert Cavuoto: I'm going to put my three favorites in the ring, "Rise Up," "Resurrected," and "Burn it Down."
Doug Aldrich: Those three will be in there for sure. "Burn it Down" we are going to expand it live and "Resurrected" is such a kick-ass track.
Robert Cavuoto: I didn't realize that you were in House of Lords for a period of time.
Doug Aldrich: Gregg Giuffria and James Christian formed the band. They did the first record with Lanny Cordola on guitar and not sure what happened with him departing. I had played on some demos for them, and they loved it. One of the demos was "Can't Find My Way Home" by Blind Faith. They loved it so much they wanted me to do the album and join the band. I was in Hurricane and just finish an album and videos.
I couldn't leave Hurricane to join House of Lords as I had too much invested. They got guitarist Mike Guy. When they rehearsed for the tour, I think they were overly sensitive about making the guitar part sound exactly as I had recorded on the album. Mike and I both play differently, both are good. They wanted him to sound like me, and that was probably putting pressure on him.  They decide it wasn't working out and asked if I would do the tour. I was free, so I did the tour. After that, I was done as I was doing other things. I really liked playing with the guys. Gregg and I really hit it off.
GALLERY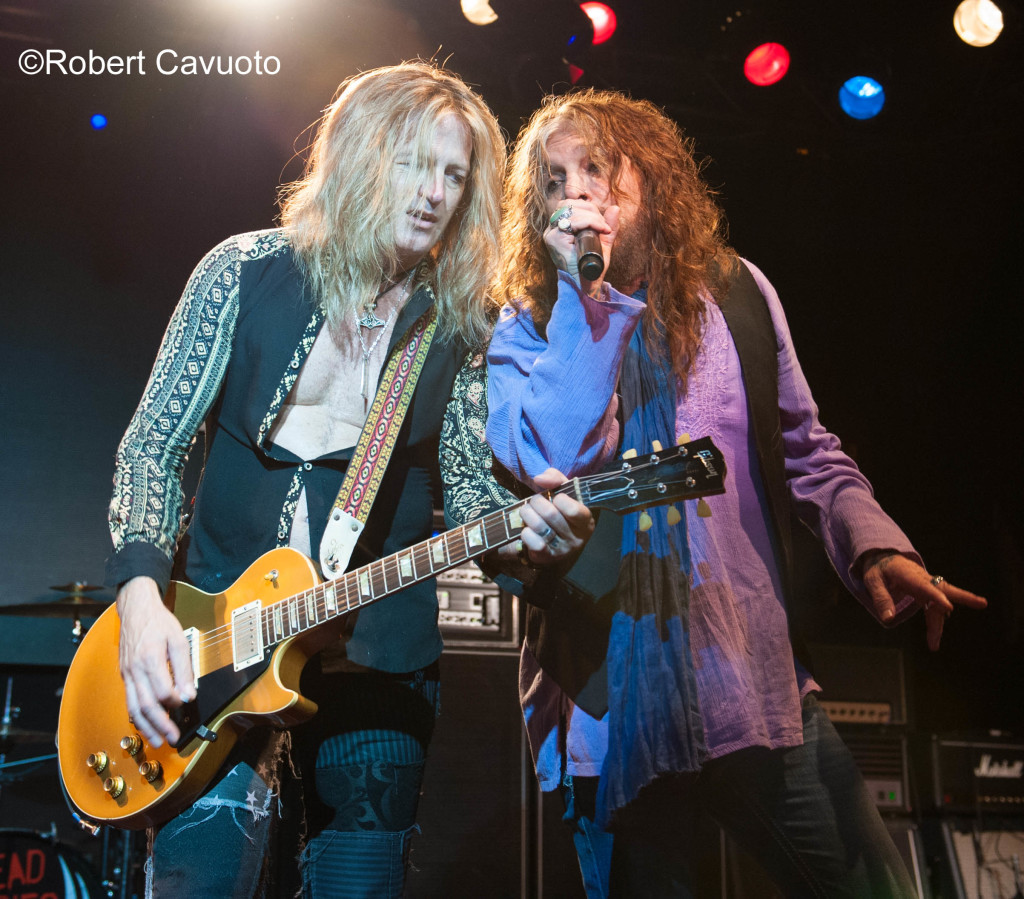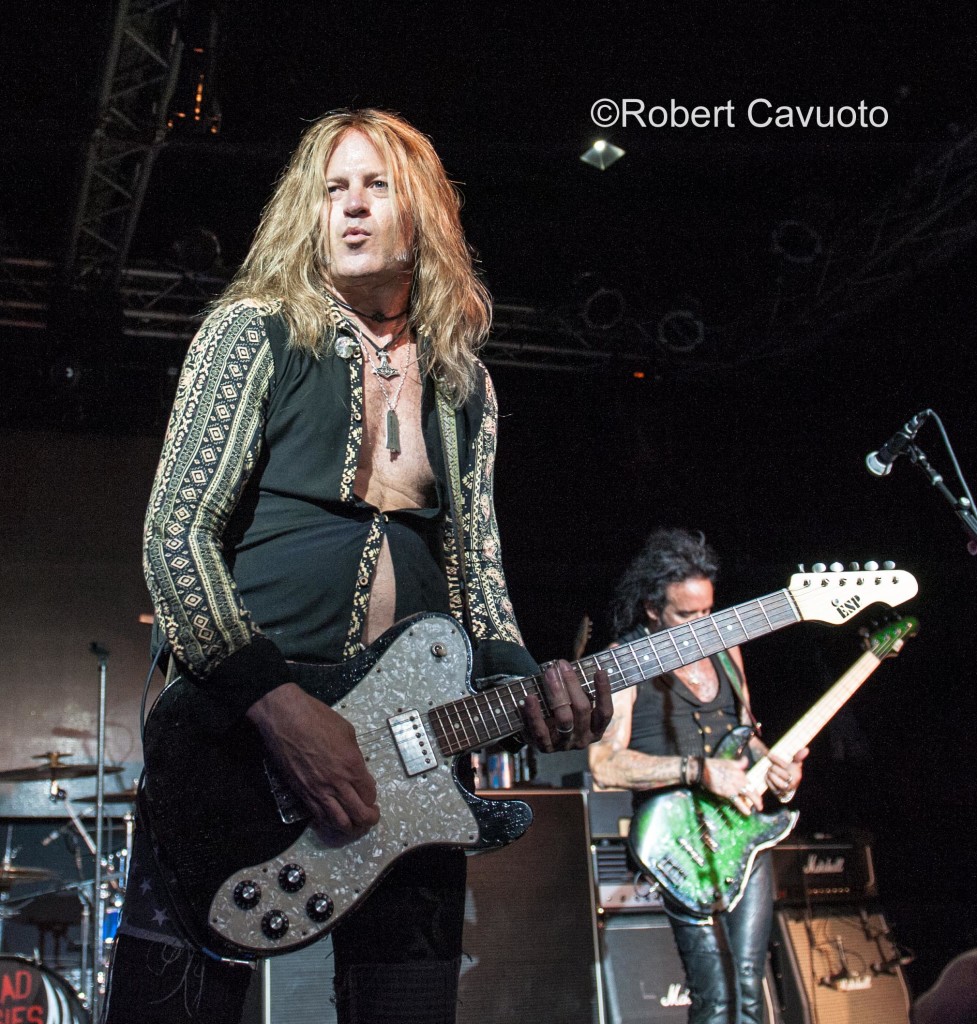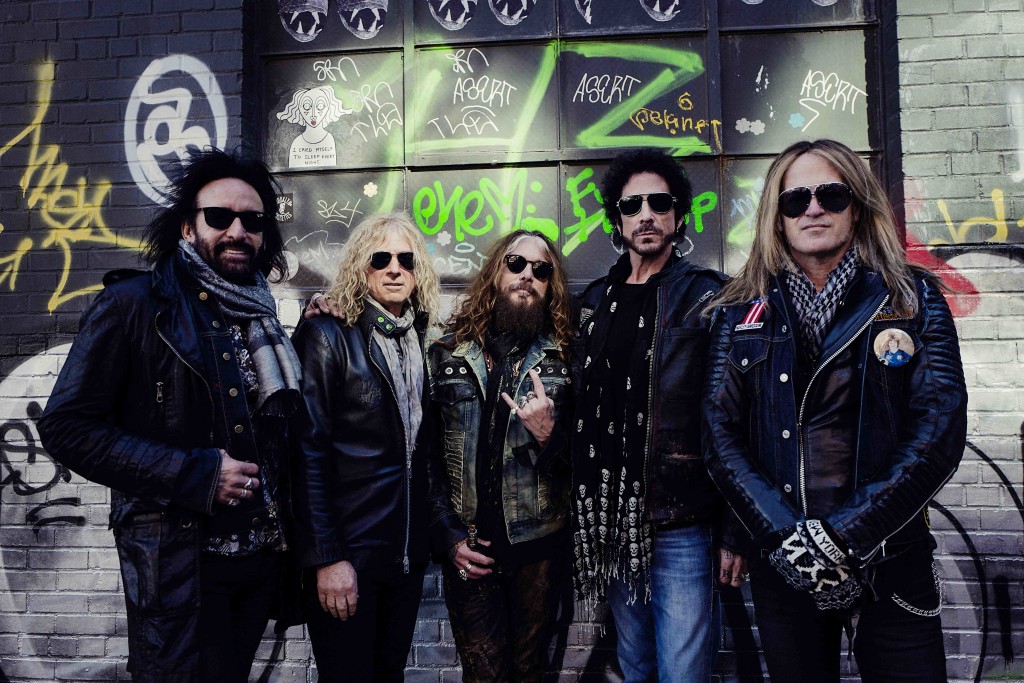 Doug Aldrich of The Dead Daisies Discusses New CD – Burn it Down!
Source: Guitar International Magazine