By: Robert Cavuoto
Formed in 2013, guitarist Chris Llewellyn of the bluesy rock band HUDSON, knew after first hearing David Hudson sing a cover of The White Stripes' "Seven Nation Army," with his whiskey-soaked growl that the two of them were destined for great things together.
The band found their sound during a streak of live performances in early 2014, which included a two-month residency at the world-famous Viper Room and multiple performances at SXSW.
In June 2014 the band released their first EP, In The Unknown. The lead single "Weightless" received critical acclaim and was put in rotation at over 100 non-commercial and college radio stations across the U.S.
Building on their success and momentum David Hudson [vocals], Chris Llewellyn [guitars/harmonica/producer], Brian Cohen [keys/bass/producer] and Christian Thierbach IV [drums/harp] have just released their latest EP, Cast Out.
I caught up with Chris to talk about their new EP and their rise to success!
 ******
Robert Cavuoto: Can you tell me about the vision you had going into the making of this EP?
Chris Llewellyn: We wanted to make an even bigger statement and sound than our first EP In the Unknown.  We spent a lot of time perfecting the recordings of the songs to make sure the sonics were as big as possible.
We also wanted to make sure we had the right songs on it, and once we had the title track "Cast Out" in the bag. we knew we had something special that had a deep meaning others could relate to.
Robert: The songs have a haunting bluesy vibe, can you tell me about that musical direction?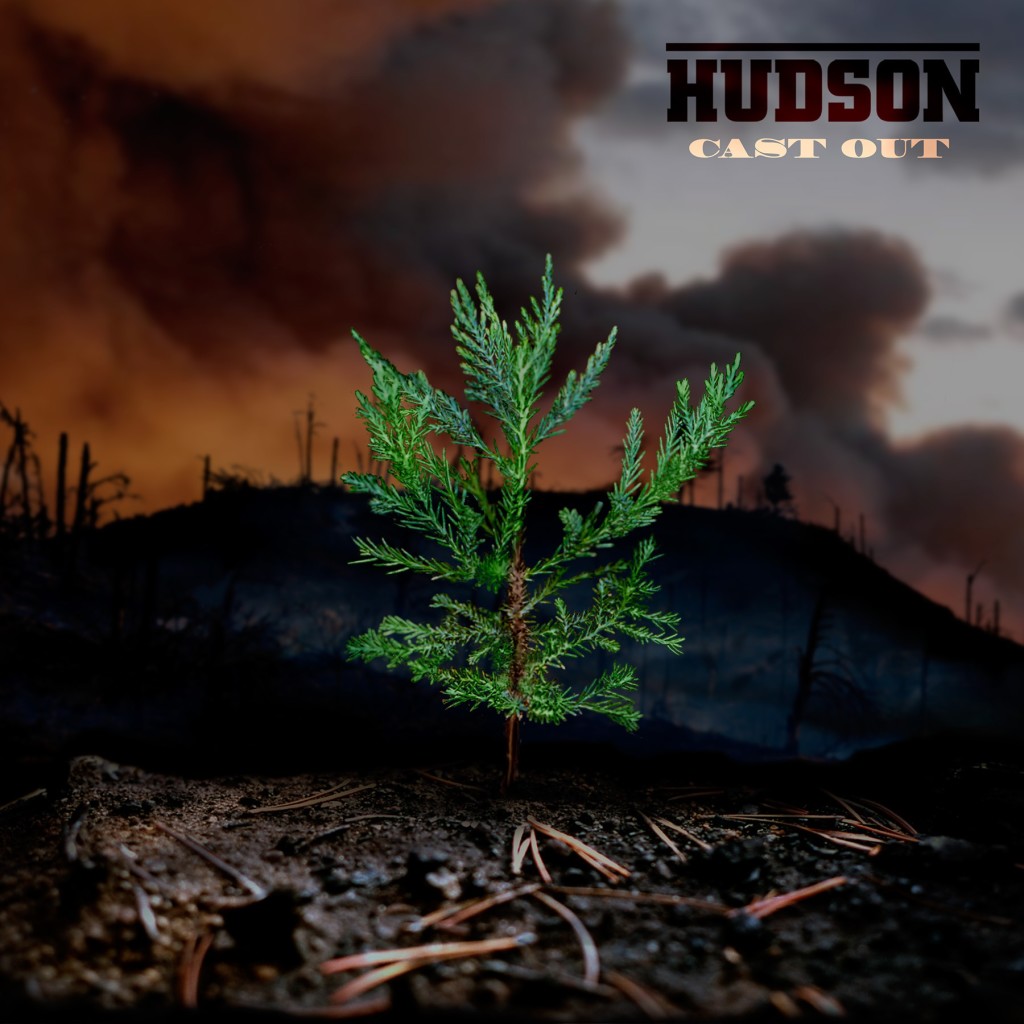 Chris Llewellyn: For us, if it doesn't have the blues, it's not rock 'n' roll.
Rock 'n' roll originally came out of the blues, and we feel like the soul and attitude has been missing from a lot of the rock music that has been coming out the last 20 years.
All of our favorite music has that soul and pain in it that really speaks to a lot of people.
Our bass player Brian Cohen and I are both from the south [North Carolina and Atlanta, Georgia], so all those bluesy influences from our childhood come through in the music we make.
Our singer David grew up on Johnny Cash which is where he gets a good sense of storytelling in his lyrics.
And our drummer Christian is well studied in many genres of music, as well, so the blues is in our blood.
Robert: I really enjoyed the song "Cast Out," can you tell me some of the history or the back story behind its creation?
Chris Llewellyn: "Cast Out" was inspired by a life changing incident that happened to our bassist Brian Cohen.  About six years ago he was badly beaten by five guys, nearly to death.  They were caught and a lengthy court case ensued.  After six years the case finally went to trial, and because of some missteps in court the guys got off scot-free.
Our initial reaction to this was anger and wanting revenge.  I called David and told him about the verdict, and he ended up writing "Cast Out" over the track which Brian and I had written a few weeks prior.  The message of the song is about taking a negative experience and using it as fuel for something positive.
There is a line in the song that says "if I had my way I'd break your face, but instead, everyday you're gonna hear my name."  We felt like using this experience to write a great song and become successful is the best revenge you could ever have.  Retaliation would've done nothing positive for us or our future.
Robert: Wow, that's a powerful message and story! What influences you the most as a songwriter?
Chris Llewellyn: Life is what influences me the most.  My daily interactions with others and my life experiences help me to express my thoughts and emotions through song.  Nature is a major influence in my life, so I try to get outside as much as I can.
Robert: Tell me about the band's name?
Chris Llewellyn: Initially our bass/keys player Brian, my production partner, and I were developing our singer David for his solo project HUDSON [his last name].  It had a more folky/Americana/pop vibe to it when we started out.
As time went on we realized that we should make the project a band and so we kept the name and capitalized all the letters HUDSON.  Once we became a band, we started to head towards a more hard rocking sound for the most part.  We wanted a name that would work well with the sound we were making and it fit.  There was also a small audience already starting to grow with the solo project, so we decided to just run with it.
Click here to view the embedded video.
Robert: What does it take to stand out as a band nowadays in an overcrowded market?
Chris Llewellyn: I think it takes a serious amount of attention to detail on all fronts.  Your music and recordings have to be top notch, as well as your image and visuals.  And beyond that, I think having a strong message behind your music is very important.
I think the whole sex, drugs; rock n' roll thing can only take you so far at this point, so our band has a much bigger message for the world.  The majority of our songs deal with following your dreams, putting your heart and soul into everything you do, treating others and nature with respect, and above all els,e quality over quantity.
In this fast paced world, everything in our culture has become about the almighty dollar.  And while we obviously need to pay our bills with our music, our main goal is to spread this message to the world and hopefully change people's attitudes before it's too late.  Music is the most powerful catalyst for change in our opinion, which is why we give it everything we've got.
Robert: What do you think has been your biggest challenge, both musically and professionally, so far in your career?
Chris Llewellyn: I think the biggest challenge for any band or artist these days is getting people to slow down and really listen.  Too much of the music these days is made for instant gratification.  Labels just want the next big hit and are willing to get that any way they see fit.
We are about creating a culture surrounding our band, so that we aren't as big as our last "hit." We want our audience to grow with us throughout our career, and when your only goal is a Hot 100 hit your career can fizzle out as quickly as it took off.
We are also all about artist development, and even though we are lifetime musicians, our band is still fairly new.  In the last two years of us being a band, we have come leaps and bounds with the quality of our writing and our live show.
Labels don't want to develop artists like they used to.  They just want that hit and for you to be ready to go, but unfortunately that leads to sub par music and live shows for the most part.  We are putting in the time and work now so that when things really get moving we can consistently deliver on all ends.
Robert: What has the highlight been for you in launching your new band?
Chris Llewellyn: Being creatively free and having the ability to make whatever music we want when we wake up each day.  This has allowed us to remain authentic in all that we do.
Since we started our own label, Custom Records, we don't have to answer to anyone about our music, image, visuals, etcetera.  That and just being onstage together and letting our collective energy flow forth out to our audience are the biggest highlights.
Robert: What lies on the horizon for the band and when can we expect a full length CD?
Chris Llewellyn: We are expecting to get out on the road by the early spring and plan on touring non-stop while we continue writing and recording.
Since we are self-produced, we can keep the records coming while we're out on the road, which is a major benefit.  We are just taking things as they come, so we are going to release a full length album when the time is right.
We are still in the building phase and want to make sure we have a large audience and platform before we drop a full length LP.

Chris Llewellyn of HUDSON – If it Doesn't Have the Blues, it's not Rock 'n' Roll!
Source: Guitar International Magazine