By: Robert Cavuoto
Guitarist Billy Morrison has a solid history playing rock/punk music including working with The Cult, Camp Freddy and more recently, Billy Idol and Royal Machines.
On October 23, he'll be releasing his second solo CD,  God Shaped Hole, and Morrison doesn't back down from his punk roots – he runs full throttle.
Morrison is joined by Billy Idol guitarist, Steve Stevens, and Royal Machines / Jane's Addiction guitarist, Dave Navarro, on some leads, as well as the Prince of Darkness, Ozzy Osbourne, who sings and co-wrote the killer song "Gods."
Produced by Mike Clink, legendary producer for Guns N' Roses, this album was recorded between legs of a Billy Idol World Tour and features five original songs, as well as five rather obscure cover tunes from bands that influenced Billy growing up.
The album rocks with its raw, yet melodic, punk inspired tunes that are so infectious that once in your head sticks.  For my bucks, stand out tracks include "Baby Hurricane," "Ordinary Girl," "Gods," and "Methadonia."
Over the years I have done my fair share of interviews from hotel rooms, lobbies, bars, and backstage; always intrigued how the celebrities would arrive to the interview.
Will they arrive on foot, in a limo or saunter out of a tour bus?
Leave it to the adventurous adrenaline driven Morrison to be delivered by the U.S. Coast Guard.
Billy and his friends had been scuba diving when their boat failed them about 20 miles off the coast,  near Clearwater, Florida.
No problem, Billy kept to his schedule and arrived in style, with the Coast Guard hauling his group's boat in their wake!
******
Robert Cavuoto: I'm really loving your new album, God Shaped Hole, its raw, rocking, melodic and edgy, tell me about its origins.
Billy Morrison: Thank you, it was an album that wasn't planned; I was going to release two or three cover songs just as a tribute to the bands and their songs that made a difference to me when I was coming up.
It was recorded in between legs of a huge world tour with Billy Idol. With my love of making music I don't really question why I'm doing something, I go where the energy is. And that's the end result!
Robert: The album is extremely cohesive between the obscure cover tunes and your originals.
Billy Morrison: When I say obscure, I really mean obscure! When I was coming up in the '80s, early '90s the scene in London was punk rock. There were tons of bands who released one single then went away or struggled through a four-year career and never got anywhere, but were still great.
The only song on the album by a fairly well-known artist is "You are in my Vision" by Gary Newman from his Tubeway Army days. Gary is a friend now, so I sent him the song, he sent me the most complimentary email back.
It's something special for me growing up being a fan and being able to send people that I love and respect versions of their songs and get quality feedback.
Robert: I have so many favorites on this album; walk me though the two that have been stuck in my head "Baby Hurricane" and "Ordinary Girl."
Billy Morrison: "Baby Hurricane" was touch and go, whether I was going to put that on the album.
I'm a huge fan of the Goth band Flesh for Lulu from England. They were the first band that I followed. Back then you would hitchhike around Europe to go see your favorite band; I must have seen them over a 100 times.
Their singer, Nick Marsh, pass away from cancer this June.
Last October we played Hammersmith Odeon in London and he came down to see us and we saw he was doing his best to fight it. It was only then did I say that I wanted to record one of their songs before he passed away. I contacted the rest of the band and out of respect, to determine if I should do it. They said Nick loved you and you loved him; put it out on the album.
"Ordinary Girl" is an original song and is not about any specific person or event, but about the subject matter that everyone has experienced. It's about waking up next to someone you don't want to wake up next to [Laughing]. One of my favorite choruses that I've ever written is for that song; "I've gotta get out of here before I drown in the atmosphere."
Robert: Did you have to rework the cover tunes in order to make them work on the album?
Billy Morrison: They are pretty true to the originals, the only difference is in the production. A lot of these songs were written 20 – 25 years ago. I don't think you can avoid the cohesiveness on an album when I played every instrument, with the exception of the drums.
I have my friends doing some leads, but I did a lot of leads on the album. It's cohesiveness because I do what I do. The covers were chosen with me in mind, I'm English and I have an English bend as I'm attracted to the Pistols and The Clash. Songs that have an English vocal delivery. There is another element to the cohesiveness.
Robert: I'm intrigued by the title of the album, God Shape Hole – tell me about the meaning of it and how its connection with your painting on the cover?
Billy Morrison: That has everything to do with Ozzy Osbourne and the song "Gods" we wrote together. I text with Ozzy every day, he and Sharon are my family. I came off tour and disappeared for a few days and he texted me, "Where the hell are you?"
I told him I'm in the studio and I had decided to make a solo album and the next text I got from him was "I want to sing a song on the album!" I take that with a grain of salt as I know what it's like to get a huge guy like Ozzy who is signed to Sony to sing on it.
I went over their house and talked to Sharon and said, "Ozzy wants to sing on this album and I just don't know how to do it." She stopped me there and said "Billy, it's a great idea, I love it, leave it with me!"
I have to say that Sharon and all the people who run the Osbourne camp, they just made it happen.
Ozzy told me, "I want to sing a ballad, have you got a ballad?" When the Prince of Darkness asks you something like that you say "Yes!" [Laughing] At the time I didn't have a ballad. Thirty minutes later I had a ballad.
We went to South America together and I bought an acoustic guitar. I stayed in his hotel room and in another 30 minutes I was playing the chords and he wrote the lyrics. When we got back we recorded it.
Robert: It's a fantastic song, any plans to write songs for Ozzy's next album? You nailed his style reminiscent of something off No More Tears.
Billy Morrison: I can't say too much, but I can say that is not the only song that I have written with Ozzy. I can say that because he's already said it in the press.
I approach writing with him like I approach writing with anyone, I try to capture what their essence is, not mine.
I'm pretty good at writing with other people in mind. I'm tapping into what turns me on about Ozzy.
Typically he writes with lead guitar players and I'm a rhythm player I love bands with chunky rhythm like AC/DC and the Sex Pistols. So, I'm not writing the song around how many notes I can play in it.
The producer Mike Clink had a lot to do with making it sound like it did! Steve Stevens did the solo and has his signature style all over it.
Ozzy told me the solo turns him on every time he listens to it. Paul Trudeau did the keyboard, Ozzy did the melody, and Paul came in to translate the melody for the string parts.
Getting back to your earlier question regarding the title, Ozzy wrote the chorus and it goes, "I found myself another God shaped hole". He just looked up at me and said [in Ozzy's voice] "There's your album title!" [Laughing] I said your damn right, its great!
Click here to view the embedded video.
Robert: When Ozzy gives you an album title, you better take it [Laughing].
Billy Morrison: That's right! I'm trying to marry my artwork to my music, it seemed obvious that I put it altogether. I painted the cover specifically for this album. I wouldn't have painted it otherwise, as it's a God shaped hole in your heart.
Robert: Tell me about recruiting Steve Stevens and Dave Navarro for the album?
Billy Morrison: I wasn't going to have anyone on this album, because a lot of my notoriety is through bands like Camp Freddy and what is now Royal Machines. That's all about other people coming up to jam with us like Steven Tyler, Ozzy, and Slash.
The last two years it's really been about me solidifying my place as a legitimate writer, performer, and artist. I wrote Kings and Queens of the Underground with Billy Idol and Steve Stevens and his solo album, so I thought let me do my solo album by myself.
But, when Ozzy says "I want to be on your album, I'm your best mate," you're not going to say no.
So with that track I wanted to get someone to play lead on it to benefit the track. Ozzy, Steve, and I have spent some time in a room together over the last few years so I called him up to lay it down.
I called Dave as we play together in my other band Royal Machines for "Methadonia." He added what I consider the best part of the song, with the crazy harmonics going through the verses and the Siouxsie & the Banshees bell thing in the chorus.
Both of these lead guitar players have changed my life. Being on the stage with Dave for 15 years and Steve for almost 10 years, I wanted both on the album.
Robert: I spoke with Steve Stevens this past May regarding the writing process on Kings and Queens of the Underground. He said that Billy Idol, you and he rarely develop songs from riffs, it's based on a series of chords or lyrical ideas. How did you approach writing for your solo album.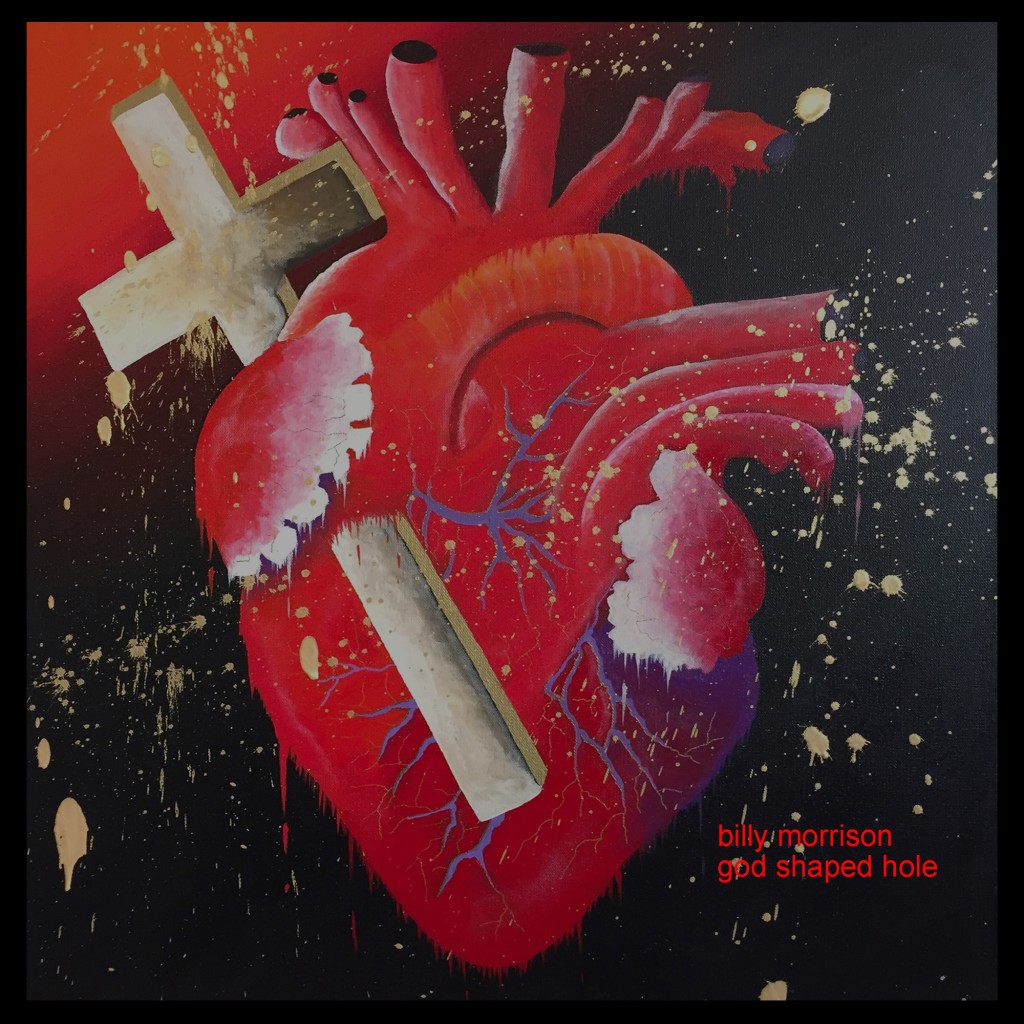 Billy Morrison: Absolutely right and that's a very perceptive point, on Kings and Queens, there's a song call "Eyes Wide Shut" that started with something that I recorded in my own studio. It was three chords on a piano played on loop for about a minute.
I presented it to the guys and from there we got the key of the song, the chord structure, and the tempo.
Billy [Idol] was listening to it as Steve was transferring the files and started humming to it. Next thing I'm in the kitchen with Billy working on lyrics and Steven started to work on the chord progression. That's how a lot of that Billy Idol album got done.
On my album there is a song called "Alone in the Crowd". It's just a riff! I came up with it and once you have it, it's easy to kick into a chorus, as the song writes itself.
Robert: How does your playing technique change from Billy Idol to Royal Machines to your solo album?
Billy Morrison: I don't think it differs that much. I'm pushed and challenged more than you can imagine by Steve Stevens. When we are writing or rehearsing, Steve forgets he is one of the world's greatest guitar players! He'll play something and turn to me and go, "Can you play that a third above?"
I'll say, "Steve I can't play what you're playing, let alone a third above!" [Laughing]. But then he pushes me and says, "Yes, you can."
I'll sit in the corner for five minutes and I'll get it. I'm playing stuff I never thought I could play. When I write and play my own materials, I'm more in my comfort zone. I'm focused more on the vocals and the music is more in my "uncomfort" zone.
Robert: Will you be doing a tour to support the album?
Billy Morrison: I'm not. I'm too old and long in the tooth to put a band together, rehearse it, and travel around in a van, as that's the reality of it.
I don't really want to put an ad in Musicians Friends looking for people to audition. It isn't appealing.
I'm sitting in my suite here in Clearwater, Florida, with a tour bus outside; it's at the highest level. I may show up in a few places doing acoustic performances, but that's really about it.
The album was made for me, as I love making music. What's sad about the music business is that there is no room for someone who isn't 21 to start showing how raw they are. I'm as raw as you get.
I'm an original punk rocker from London who stands by the punk rock ethos and attitude on everything I do from music to painting to acting. I believe that it doesn't matter how you say something, as long as you have something to say. That gives me the raw edge.

Billy Morrison, God Shaped Hole – Delivering Punk Rock Ethos & Attitude
Source: Guitar International Magazine