By: Rick Landers
Many of us recall being enthralled by the performances and artistry of David Cook, as he ran the competitive steppes of "American Idol".
David impressed us with his vocals and risky song selections that were staples of the airwaves and firmly embedded in our national entertainment psyche.
Catch Cook's rendition of Michael Jackson's "Billie Jean" where he lifted the high water mark of Michael's catalogue and plopped it into the world of ballads.
Perfect.
And as he lifted the song, "American Idol" lifted him from obscurity to a level of fame, most performers only dream about.
And, it all could have ended there or shortly thereafter. The star-making machinery can severely crush ambition and germinate cynicism, leaving promising artists on the off-ramp of fame, to regain their footing or go back home to get a day job.
What's intriguing about David Cook is that he leveraged his new found fame to blend his altruism with his ambition, and it seems he's smart enough and kind enough to allow his altruism to lead.
Most recently, we find David Cook not performing at large venues, following the money track. His altruism leads.
In May 2018, he could be found in Washington, D.C. at The 2018 Race for Hope, where he supported his 2018 Team for a Cure-Making a Difference. His team raised $78,000 to benefit ABC2 and The National Brain Tumor Society.
David's been supporting the group for ten years, and he and his team have raised over $1.3 million for brain cancer and brain tumor research, in various fundraising efforts. And in 2018, their efforts were recognized with a 2018 Rabbi Joseph P. Weinberg Triumph Award.
At first blush, one might think that David's ignoring his career aspirations, but they are deep and wider than we might guess.
And, one might expect more than a single blush from David during one of his last gigs, playing Charlie Price in Broadway's Kinky Boots at the Al Hirschfield Theater in New York., where he dons some thigh high hot red high-heeled boots and befriends Lola, a drag queen, and works to reconcile his practical and, maybe, not so practical inclinations..
His musical ambitions are still upfront with a new EP, Chromance, that was released February of this year by Analog Heart Music.
Chromance is heavy on the production side, but allows David enough room to breathe, with his vocals a bit on the darker side with touches of rock, ballads and pop, oftentimes rolled into single tracks. The EP is Hall & Oates or Tears for Fears on steroids and is a strong set for his fans, whether they're into his stripped down songs that focus on his voice – that voice – or are up for this amped up version of David Cook.
So, we see many sides of David in this Guitar International interview; talented singer-songwriter, actor with chops, fundraiser for good causes and a man who's not only an entrepreneurial seeker, but one who takes on new challenges to reinvent himself, to explore and discover the many facets of not only who he is, but who he might become. We look forward to see where David Cook moves next, to see what mountain he might climb next,  and we're certain he'll land with both feet firmly on the ground.
******
Rick Landers: Let's start where some interviews end.  Let's imagine your 90-years old and you're looking back on your life. What kinds of experiences have you had and what are you most proud of?
David Cook: I've gotten to travel the world as a musician.  I'm extremely proud to have had that honor.  I actually just wrapped up another year of working with the Race For Hope in Washington DC, with ABC2 and The National Brain Tumor Society.  I've been extremely proud of what my fans have helped accomplish over the last 9-10 years of working with that event. 
Rick: Now, let's go back when you first had an idea that your voice was not only a fun thing to be able to play with, but a talent that could open doors to, maybe fame, and opportunities to live a dream?
David Cook:  I never really gave it much thought, truthfully, until maybe the end of high school or the beginning of college.  I was offered a small theater scholarship for college, and that was my first real confirmation that maybe there was something there.
Rick: How has your initial hobby of playing guitar evolved to become not only a tool to a worthwhile livelihood, but possibly a "side kick" that will likely accompany you for the rest of your life?
David Cook:  I always go back to being a kid, and my Dad always having a guitar around.  He would sit there in the living room and noodle around while I was watching cartoons or whatever.  So, I've always seen guitar as a lifelong thing.  As with any artistic pursuit, there's always another mountain to climb.  You never really completely master it.  I like that aspect of it.
Rick:  I think there's typically a kind of void that a performer has when they start out that needs to be filled by confidence – probably hard won by playing to many audiences – and it might be a form of reinventing one's self. What kind of progression did you go through in order to gut it out and perform to larger audiences. Or are they easier to entertain than smaller more intimate groups?
David Cook:  I've always thought that the larger the audience, the easier it is.  The energy is more abundant, maybe?  I remember playing a gig in Manila in 2009.  I think they said there were north of 100,000 people there.  And then a week later, the next gig was somewhere in Ohio, I think, and it was maybe a thousand.  And I could feel each of the thousand pairs of eyes starring lasers through us as we played.
Rick: Please, tell us about your fans and some of the lessons you may have learned from them?
David Cook:  My fans have been incredible.  They've developed this interesting community over the past decade, and to see that community manifest itself not just in supporting my music, and now acting, but also the causes that are important to me.  The empathy and community that exists at that level are things I hadn't been exposed to before 2008.  It's inspiring and certainly something I've tried to integrate into how I interact with people in everyday life.
Rick: How about telling about your electric and acoustic guitars and do you have a favorite at home? On the road?  
David Cook:  Oh, god.  I think I'm sitting on about 25-30 right now, give or take a few.  I've got a handful of Gibson Firebirds, LPs, SGs.  A few Fender Teles.  I've had this Taylor acoustic for a while that's my go-to, sit-down-at-home-and-write guitar.  My favorite on the road right now is a Japanese Fender Tele that I've had frankenstein-ed with some souped-up pickups.  It's in dire need of some fretwork, but it still does the job, so I'm hesitant to mess with it much further until I need to.
Rick: What kinds of experiences have you had with busking, house concerts, open mics and those kinds of "venues", before you nailed American Idol?
David Cook:  One of my favorite memories was during college, I was playing with this band based out of Tulsa, Oklahoma.  We had a couple nights worth of gigs in Wisconsin, and they were going to swing through Kansas City to pick me up on the way there.  I overslept and missed a ton of phone calls, so they ended up going on without me.  I ended up going on this multiple-ride adventure to get there for the second show.  Slept on couches, pseudo-hitchhiked, but got there.
Rick: Have you found yourself more interested in the technical sides of recording, engineering and producing and do you prefer to have more control than less?
David Cook:  I am a total control freak, but I'm aware of my technical limitations.  So there's a yin and a yang there.  I try to surround myself with as much talent as possible in that realm, and then just be a sponge.
Rick: Artists have nearly always told me that being on tour really beats them up. If that's the case with you, what do you do to ward off the stress and the unhealthy habits that tend to creep along with artists when they're on the road – like too much fast food?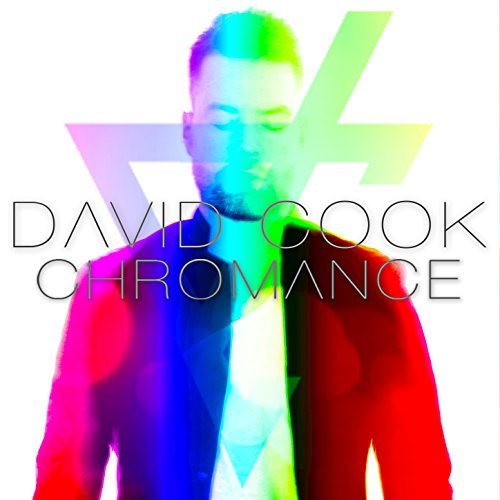 David Cook:  They're not lying.  It's not a lifestyle that's necessarily conducive to being healthy, physically or mentally.  I went on the road for almost all of 2009, and when it ended, there was a long transition afterwards.  Anymore, I try to keep road time brief and concise.  Month here, month there.  Life balance is the goal.  As far as food goes, it's doable, but difficult.  You walk off stage late and starving, and the options aren't usually great.  Takes will power that I don't always have…
Rick: Tell us about why you showed up in D.C. recently.  
David Cook:  I've been involved with Race For Hope, an annual event held in D.C., since 2009, as a way to honor my brother, Adam, who passed away from a brain tumor.  This year marked my tenth go-round with them.  It really is a wonderful event. Honored to get to continue to be part of it.
Rick: What's your schedule like this year and do you set aside time to take a breather or are you hard charging all the way?
David Cook:  This year has been a little different.  I just finished my Broadway debut, in Kinky Boots.  I also released a new EP in February, called Chromance.  At the moment, the plan is to head home, spend some time with the wife and our pups, play some shows, and write some more.  So resting, but not resting, if that makes sense?
Rick: Many of our readers are still working locally, trying to build their chops, their confidence and their bank accounts in order to make their first albums. What kinds of advice would you offer them?
David Cook:  If they're doing that, then they're on the right track.  It's a craft.  Take every opportunity you can to hone it.  When I started really working at it, I tried to write a song a day.  Most of it was trash, and thank goodness no one else heard it, but you get a little better, and a little better, and a little better.  Great songs find a way to get heard, you know?
Rick: What projects do you have going for the moment; tell us a bit about your new album Chromance and are you already working on something new in the studio?
David Cook:  Right now, I'm in idea collection mode.  My notes and voice memos on my phone are damn near full.  So now it's about going through all that and figuring out what's there.  Hopefully, I can start putting that stuff together into cohesive ideas, and get to recording. 
Rick: Many artists end up with pretty lousy management teams, bad labels and overall disheartening experiences in the music world.  Do you have any particular approach to hiring people or working with people to keep life sane and maybe to protect your own self-interests?
David Cook:  Gut instinct matters.  It's important to know what you want out of it, before anything else, and then finding people that meet that ideal.  It's also important to know that no one else is going to have your interests at heart more than you.  "No" can be a powerful tool, when used properly.
Rick: You're back home, you're hanging out or chilling….are you more meditative or energized? What other kinds of things do you like to do other than make music?
David Cook:  A bit of both.  I like to relax a little, but I get stir crazy really easily if I don't have something coming up.  I like to try to stay active.  Occasionally, I like throwing on a Camelbak and doing some urban hiking.
Rick: Any thanks you'd like to pass along to friends, family or colleagues who've made your life easier , better, more humane, on this ride you're on?
David Cook: I think your question kinda checks all the boxes.  Thank you to all those people who help make my life easier, better, and more humane.  Lucky to have you all!  And thanks to you, Rick, for making the time to chat today!

American Idol David Cook on His Music, His Fans and Making a Difference
Source: Guitar International Magazine